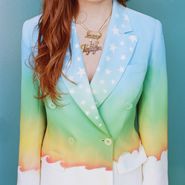 Jenny Lewis' video for "Just One of the Guys," taken from her upcoming new album The Voyager (out on LP and CD July 29, it's up for preorder now), turns its titular idea on its head (literally) with some breakdancing and gender play.
Actresses Anne Hathaway, Brie Larson and Kristen Stewart show up to play as backup in Lewis' band a la Robert Palmer's "Addicted to Love" (only a tad less sexist) before donning tracksuits and mustaches and pulling out some B-boy movies.
According to Rollingstone, the new album was written during a tough time for Lewis, following Rilo Kiley's breakup and the death of her estranged father. She kept busy by writing and touring with the Postal Service, then entered the studio last year with Ryan Adams and his producing partner Mike Viola (Beck also did some production work on the album).