Starting next week, we're holding a huge sale on Criterion Collection movies at Amoeba Hollywood—from June 18 through July 4, get 25% off all new Criterion DVDs and Blu-rays. You can read more about that sale here. To kick it off, we gathered our collective heads to pick our favorite Criterion movies on disc. Criteria varies, but generally these discs offer something special beyond the movie itself. Check out our picks below.
Band of Outsiders (1964)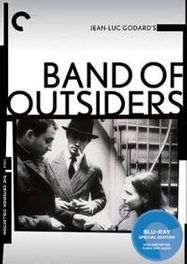 Jean-Luc Godard's French New Wave classic gets a pristine high-definition digital transfer on both the DVD and Blu-ray, while excerpts from the documentary La nouvelle vague par elle-même offer behind-the-scenes footage and interviews with Godard. And a short film by the great French New Wave filmmaker Agnes Varda featuring much of the Band of Outsiders cast is just icing.
The Battle of Algiers ­(1966)