Paramount Home Video 83426
I thought I would share my altar for Dia De Los Muertos. I've been doing this for the last several years. To me, death is not the end. I still feel the presence of people who passed on every day. Dia De Los Muertos is a day to honor remember those who have passed on to the
spirit world
.
On my altar I have family members, including my grandmother, my aunt Lola (Dolores), my cousin Robert Bobadilla and my sister Irene Gomez, who passed back in 2005, My friend Lance Hahn from the band J-Church is also there. Every picture that I picked has a meaning. The pictures of my aunt and grandmother came from the day when we were all last together as a family. the picture of my cousin was from my other sister's wedding. and the picture of Irene was from a party that she went to that she had lots of fun at. The pic of Lance was of him and I drinking 40's at his place in the Mission District in San Francisco after a show. I also included CD's of artists who had an impact on my life that have also passed on: John Coltrane, D. Boon, Jeffrey Lee Pierce, Hector Lavoe, Ralpi Pagan, Duke Ellington, Ol' Dirty Bastard, Eazy-E and Jimi Hendrix. I rotate most artists every year except for D.Boon & Hendrix. They are always there.
I offer the spirits flowers, tequila and Pan De Muerto. I usually set it out for a day, hoping that the spirits will come down and absorb the essence of my gifts to them. Then I do a shot in honor of all of them and take the Pan De Muerto and give it to friends. So Amoebites in Hollywood, if you had some Pan De Muerto in the break room today, you shared it with some of the best people I had the pleasure of knowing in the physical world.

Yma Sumac the legendary, one of a kind singer famous for her 4 1/2 octave range, has died in Los Angeles. She was 86.
Peruvian born, she was the personification of
exoticism
, making her an international sensation in the 1950's. After signing with Capitol Records in 1950, the striking, raven-haired beauty became known as the "Nightingale of the Andes," and the "Peruvian Songbird." Her first album,
Voice of the Xtabay
, rocketed to the top of the LP charts introducing a whole new genre,
Exotica
, to the music buying public. During her heyday, Sumac headlined at the some of the most prestigious venues in the world, such as the Hollywood Bowl, Carnegie Hall and Royal Albert Hall. She reportedly made $25,000 a week in Las Vegas and turned down offers to sing with New York's Metropolitan Opera. Her eccentric costumes and stage settings were often extremely elaborate, filling stages with native dressed drummers and dancers and caged wild birds. Yma Sumac was also featured in the 1951 Broadway musical
Flahooley
and appeared in the films
Secret of the Incas
in 1954 and
Omar Khayyam
in 1957.
Although details of her birth and early life have varied greatly, lending mightily to her legend, the biggest misconception was that she was born in Brooklyn as
Amy Camus
-- Sumac was actually born Zoila Augusta Emperatriz Chavarri del Castillo in Cajamarca, Peru, on Sept. 13, 1922. After performing and recording in Argentina in the early 40's, she and her husband, bandleader
Moises Vivanco
, moved to New York City in 1946, where they performed as the Inca Taky Trio, with Vivanco on
guitar, Sumac singing soprano and Cholita Rivero, her cousin, singing contralto and dancing.
Self Help Graphics
in East L.A. had their final Dia De Los Muertos celebration at their current location on November 2nd. The property that housed the event for the last thirty odd years was sold earlier this year. Self-Help Graphics not only held the longest running Dia De Los Muertos festival in Los Angeles, but many other events as well. Self Help provided a space for Chicano artists to work and display their artwork. It was also the location of
The Vex
, an all ages punk club that housed many classic early punk rock shows in the early 80's. Many great artists have either performed or shown their artwork at Self Help Graphics, too many to list them all.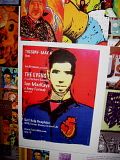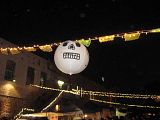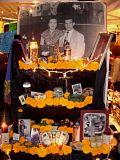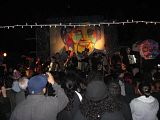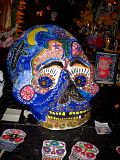 "There comes a time in the affairs of man when he has to take the bull by the tail and face the situation." -W.C. Fields.
I once took a bottle of
Rye
up there to
W.C. Field
s' grave site in
Forest Lawn
, right down the road from here in Glendale, to mark the 60th anniversary of his death. (And contrary to popular legend his grave stone doesn't read "All things considered, I'd rather be in Philadelphia," it simply reads W. C. Fields 1880 -1946.) It was Christmas day and I thought somebody should have a snoot full with ol' William Claude. But drinking in a cemetery, I discovered, is kind of frowned
upon. I thought the Rye was a friendly gesture, but not according to the security guard, who seemed even more disheartened by my choice of liquor. I should have known, never argue with a man in a uniform. I was wrong. The guard was right, Rye is kind of nasty. So I promised the Security guard, I think his name was Donald, the next time I fill my flask I'll pour in something with a bit more respect. Donald suggested an Islay variety single malt Scotch. The smoky and peaty overtones are a perfect compliment to a cold wintry day. After he returned my Rye, and put away his nightstick, we discussed the weather, W. C. Fields and oddly enough, politics. Over t
he course of our conversation I discovered we agreed on several fronts such as, Fields' best movie was
The Bank Dick
and that the last eight years have been like a long icy winter and you're trapped in a snow cave, with only shoe leather to eat, while your soul dies from hypothermia. And we both agreed the last eight years was probably very good for the whiskey trade.
Lately though, L.A. has been hotter then hell. This
October
we had some ten days of ninety plus temperatures, registering the hottest October on record since the 1870's. I'm not sure, but maybe that's a good sign politically. Though, now that it's
November
, genuine weather has made a return … clouds, rain, thunder, wind. I don't know if that's a bad sign or just weather in November. And I might be yanking at straws here again, but another possibly good sign -- at least for me and my life in a vacuum -- is that our next President is almost certainly guaranteed to be the candidate whose Halloween mask sold the most. For the last three decades this very unscientific, but incredibly accurate prognosticator seems to always predict the winner. This year's top selling mask, in a landslide, was
Barack Obama
, out-selling
John M
cCain
masks by a 2 to 1 margin. But Republicans, don't fret -- set your eyes to the horizon, un-furrow your brow, look north, look to the future, mark your calendars, thank god and bottle up those anxieties because you will be happy to know that the
Sarah Palin
mask came in second with strong mavericky sales.
Personally I'm just searching for political deliverance anywhere, everywhere. And I find signs in the oddest places. I'm reading newspapers and blogs and astrological charts and traffic patterns and weather reports and football scores and topographical maps and grocery receipts and paycheck stubs and my son's first grade homework and I see signs! The signs are everywhere, but what the hell do they mean … if anything!? Now the
Philadelphia
Phillies winning the 2008 World Series seems significant -- I swear there's something there! Especially since the Phillies also hold the distinction of being the team with the most losses in the history of Major Leag
ue Baseball. And Philadelphia is where The United States Constitution was adopted on September 17, 1787. Philadelphia is home to Independence Hall where the Declaration of Independence was signed in 1776. Philly is home to the Liberty Bell. The City of Brotherly Love is the birthplace of the cheese steak sandwich, Betsy Ross, Grace Kelly, Margaret Mead, Robert Crumb, John, Ethel and Lionel Barrymore, Wilt Chamberlain, The Stylistics, The Dead Milkmen, The Delfonics, Stan Getz, Billie Holiday, Bob Saget, Jeremiah Wright, and W.C Fields. And last but not least, over 75% of the million plus voters registered in Philly are Democrats. Is that a Sign? All I can do is hope.