The Natural History Museum's First Fridays series continues March 4 with acclaimed indie-rockers Lower Dens and Gardens & Villa. Tickets are $18.
The event starts at 5 p.m. with a DJ lounge featuring KCRW resident DJ Aaron Byrd and Val Fleury. Come early and swing by the Amoeba booth, where we'll be selling $20 Amoeba gift certificates for just $10 (limit two per customer).
There'll also be tours starting at 5 p.m. with the KT Hajeian, the museum's collections manager of anthropology, on the bizarre props and rare specimens in their collection that inspire Hollywood blockbusters. And there will be a oceanographic discussion at 6:30 p.m. with Dr. Maddalena Bearzi, president of the Ocean Conservation Society, and Dr. Chris Thacker, NHM's curator of Ichthyology (aka fish).
Baltimore's Lower Dens play with deliberately retro synths and new-wave beats on their most recent album, Escape From Evil. But the songs are every bit as intricate and mysterious as those on their previous works, offering cinematic soundscapes for Jana Hunter's elegant voice to wind in an out like a disintegrating reel. Hear "To Die in L.A." for a taste.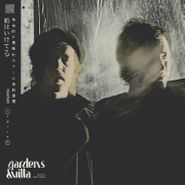 L.A.-based Gardens & Villa made the psych-pop album of the summer with last year's Music For Dogs. Dually informed by the art-pop of '70s artists such as Brian Eno and Sparks as well as the soulful new wave of groups like OMD and Yaz, Music For Dogs is a pleasurable pastiche of sympathetic and well-curated sounds. Check out "Fixations" for a sample.