We hosted an amazingly cool and diverse lineup of artists with live shows and signings/meet and greets this year! Here are a handful of events that were especially memorable.
The One And Only PPL MVR
October 14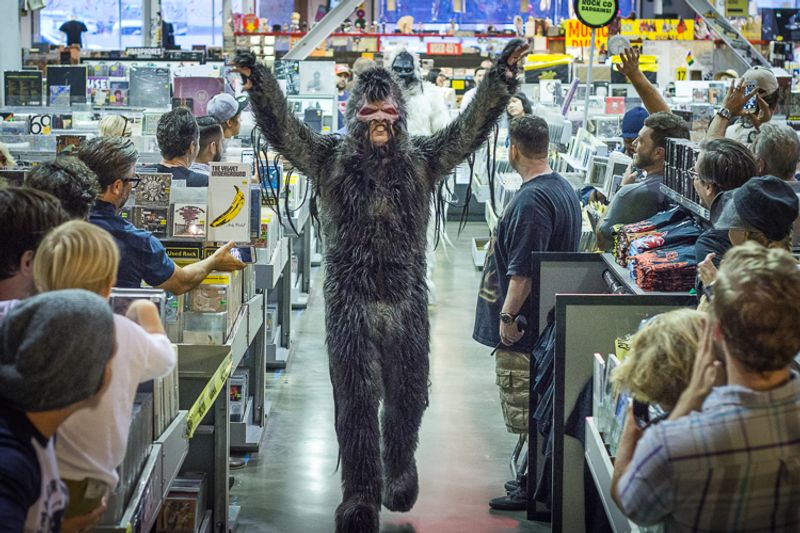 The interstellar Yetis of The One and Only PPL MVR rocked the entire store with their animalistic, theatrical heavy glam rock. Even those who didn't know what the hell was going on got a thrill as the band's bigfoot and sasquatch descended the stairs and walked through the aisles of Amoeba. See their performance of "Mad" below.
JD McPherson
June 1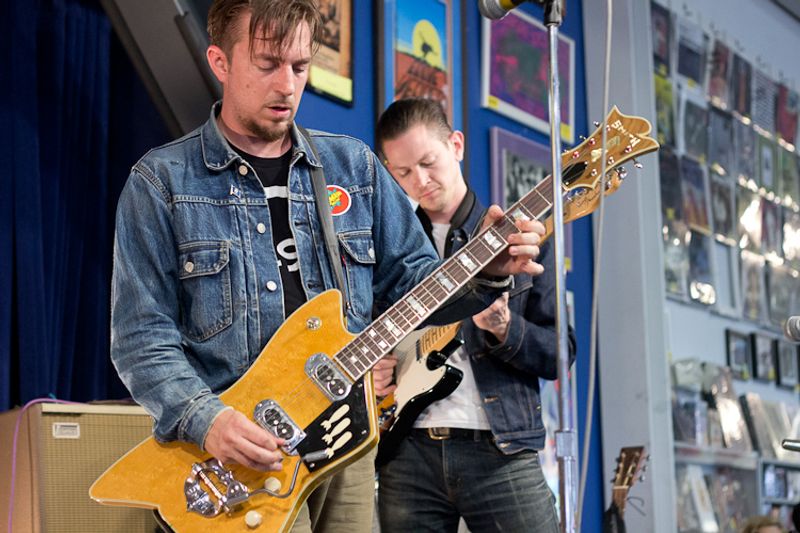 A huge crowd came out to see rock 'n' roll revivalist JD McPherson show us how it's done — he and his super-tight band played a hard-driving set in June in support of his latest album, Let the Good Times Roll. Watch his episode of "What's In My Bag?" below.
Le Butcherettes
September 17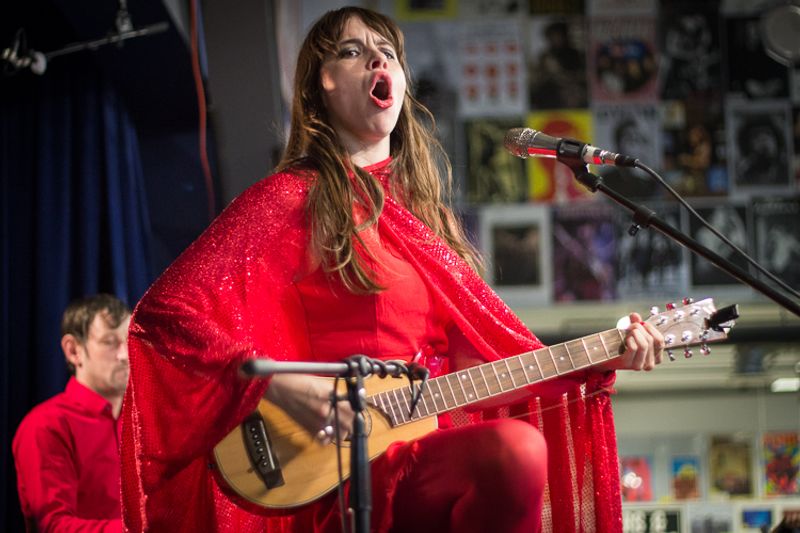 Teri Gender Bender and Omar Rodríguez-López of Le Butcherettes gave one the most riveting acoustic performances to have graced the Amoeba stage. For the finale, Teri took the show to the street. She got onto a bus stopped in front of the store and sang and strummed her way through the rush hour passengers before exit back into the store. The throng of fans in attendance got to witness a truly spontaneous guerilla performance. Their new album, A Raw Youth, is out now on Mike Patton's Ipecac Recordings label.
Ghost
August 20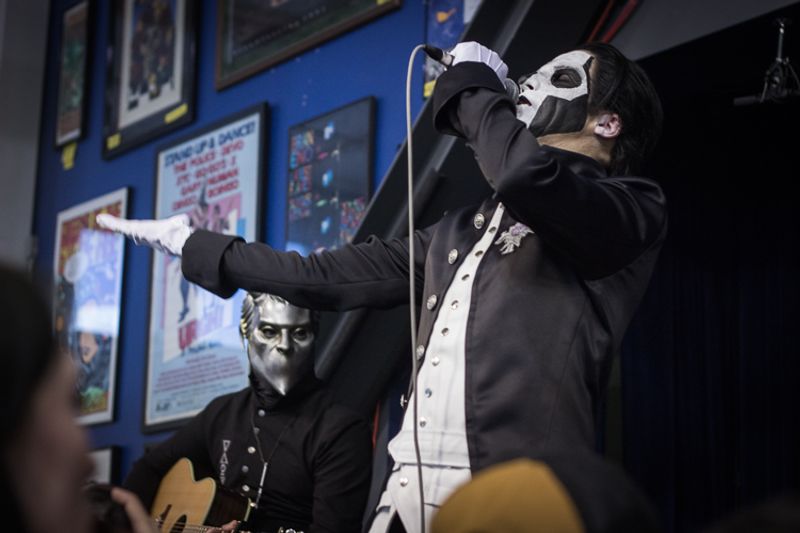 Swedish death metal band Ghost with new lead singer Papa Emeritus III and accompanied by two of the Nameless Ghouls, stripped it down for an acoustic performance that packed the house and drew the faithful to sing along, dress toddlers up in Papa III doppelgangers and to meet the band after their set. Epic and rousing for the faithful (faithless?) fans and also for the uninitiated at Amoeba! Watch their episode of "What's In My Bag?" below. Their new album, Meliora, is out now.
Gary Clark Jr.
September 23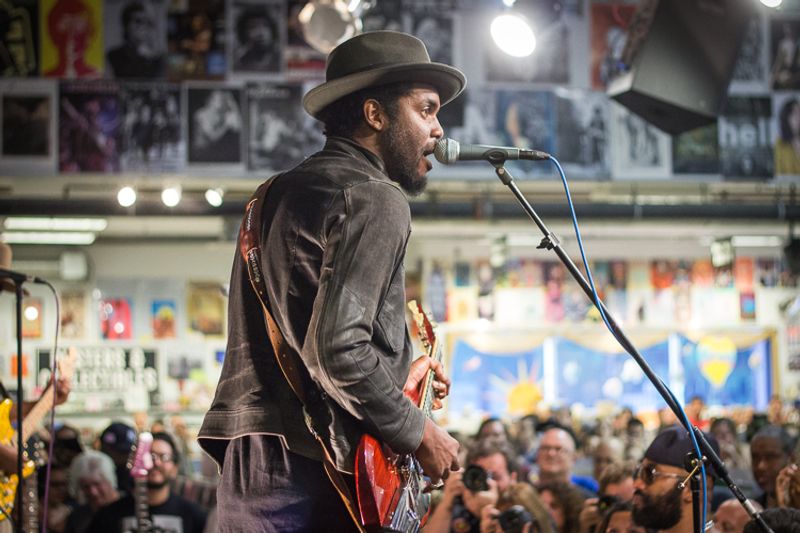 This show helped fuel the argument that virtuoso guitarist Clark is the second coming of Hendrix. His acid-laced psych-blues riffs practically blew the doors off of a very crowded Amoeba Hollywood. Check out his album The Story of Sonny Boy Slim and hear what you've been missing.
Matt & Kim live at Amoeba Hollywood April 7
Plus, some honorable mentions:
Egyptian Lover – November 16 - He turned the aisles into a packed dance floor with a master class in 808 beats and tight dance moves. Best Friday night ever?
Mild High Club – November 5 - Locals playing moody, lush soundscapes. The instrumental soundtrack to sunsets and smoggy dreams.
Matt & Kim – April 7 - One of the highest energy and committed performances ever – plus BALLOONS!
Wanna see more photos and videos from our year of in-stores? Check 'em out on Amoeba.com, or pick up our 2016 calendar with the best in-store photos of the year.
Relevant Tags
Best Of 2015
(14),
The One And Only Ppl Mvr
(2),
Jd Mcpherson
(2),
Le Bucherettes
(1),
Ghost
(10),
Ghost Bc
(2),
Gary Clark Jr.
(5),
Egyptian Lover
(8),
Mild High Club
(2),
Matt & Kim
(3),
Amoeba Hollywood
(866),
In-stores
(7),
Concerts
(48)