Globetrotting L.A. indie rockers Fool's Gold will play the next Red Bull Sound Select show Aug. 27 at the Echoplex. The show is curated by our friends at FLOOD Magazine.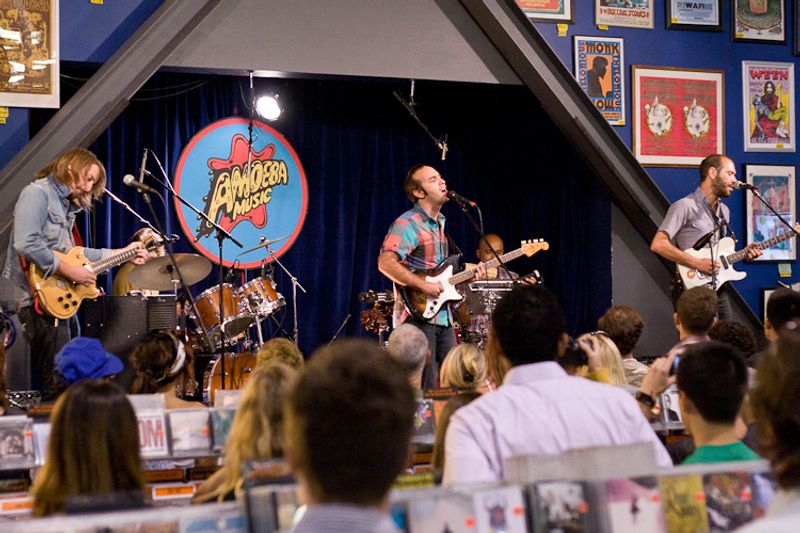 Fool's Gold live at Amoeba Hollywood in 2011
Tickets are $3 with an RSVP and $12 without at the door. Doors are at 8 p.m., and it's 18-and-over. An RSVP doesn't guarantee entrance, so plan to arrive early.
Fool's Gold began in 2007 as a side project of Luke Top (singer/bassist, also of Foreign Born) and Lewis Pesacov (guitarist). Incorporating elements of African music with Western indie-rock, the band quickly took off, releasing a well-received self-titled first album in 2009, sung entirely in Hebrew, and an English-sung second album, Leave No Trace, in 2011. They've played at such venues and festivals as the Hollywood Bowl, Glastonbury, Reading, Leeds and Austin City Limits. In 2015 the band released its third album, Flying Lessons, which continues to refine their aesthetic, throwing disco beats and more synthesizers into the mix. Watch the video for "I'm in Love" below:
Watch the band play live at Amoeba Hollywood in 2009:
Also playing the show are Red Bull Sound Select veterans Isaac Rother & The Phantoms, who play a fiery brand of garage rock inspired by '50s rockabilly and "monster songs" of yore. Watch the video for "The Phantom" below:
And opening the show will be L.A.'s Quitapenas, who blend Latin rhythms with nimble guitarwork on booty-shakin' jams like "Valle Moreno":
The event is hosted by L.A. surf punks Beach Party. Check out their video for "I Want To" below:
The Echoplex is located at 1154 Glendale Boulevard in Los Angeles.