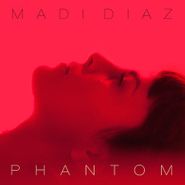 Amoeba is proud to present electro-pop singer/songwriter Madi Diaz live at the Troubadour in West Hollywood Dec. 8. The all-ages show is presented alongside Alt 98.7's Close to Home. Buy tickets here.
Diaz is currently touring in support of her upbeat new album, Phantom, which was released Sept. 30. Featuring the heartfelt singalong "Stay Together," Phantom is a sheer delight, full of driving, emotional pop songs. Don't just take our word for it—according to KCRW, "Rarely has an album about being knocked down by life sounded so attractively catchy. ... Glossy production nicely shapes Diaz' dance-music flecked songs, which throb with subterranean bass lines, ear-tickling refrains and her own genuine, no-frills vocals. ... A statement record that declares [Madi] as an artist of note."
Phantom was recorded right here in Diaz' hometown of L.A., produced by Nick Ruth (Mikky Ekko, Active Child) and mixed by John O'Mahony (Coldplay, Metric, Oh Land). She's toured in support of X Ambassadors and Dale Earnhardt Jr. Jr. Now catch her on her own headlining tour as she hits the legendary Troubadour! And pick up free Amoeba swag and coupons at the merch counter.