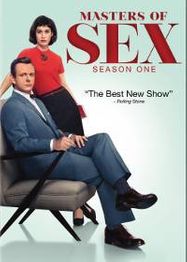 This week's Weekly Wednesday Steal is the Masters of Sex: Season One DVD for only $10 (list price $49.98).
Showtime's critically acclaimed "Masters of Sex" follows Dr. William Masters (Michael Sheen) and Virginia Johnson (Lizzy Caplan) as they research human sexuality at Washington University in St. Louis, Missouri in the late 1950s and early '60s. It is based on Thomas Maier's biography Masters of Sex: The Life and Times of William Masters and Virginia Johnson, the Couple Who Taught America How to Love.
The Weekly Wednesday steal is happening every Wednesday, in which we sell some prized piece on discount for only $10 while supplies last. It's limited to one per customer. Previous deals have included releases by Boards of Canada and tUnE-yArDs for only $10. Keep coming back every Wednesday to Amoeba.com to see what we have going on. As always, there's FREE SHIPPING on Amoeba.com for music and movies in the U.S.
Watch the slightly NSFW trailer for season one of "Masters of Sex" below: