We're curating the next Red Bull Sound Select show in Los Angeles, and this one will feature a trio of electronic-rock bands led by Holy Fuck at The Roxy on May 22 at 8 p.m. RSVP here for $3 tickets to the show. The show is 18+, and it's $12 without an RSVP.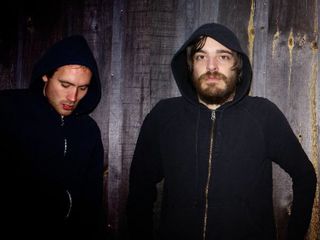 Holy Fuck
Toronto-based Holy Fuck have released three albums of genre-pushing electronica, using unorthodox "instruments" such as film synchronizers and toy instruments in addition to electronic elements in order to create danceable beats and mesmerizing sounds. Their latest album is called Latin, and they're working on a new one right now.
Supporting Holy Fuck at this show will be a couple of Los Angeles acts. James Supercave writes upbeat electro-pop with heartfelt vocals, as can be heard on his latest release, The Afternoon EP, which was just release last month. Wunder Wunder, an Australian, L.A.-based duo of producers who make shimmering, modern electronic pop with psychedelic touches, will open the show, followed by James Supercave and Holy Fuck.
Red Bull's Sound Select series invites local curators to cull together headlining acts and up-and-comers from the city in which the shows take place. Check out coverage of the last Sound Select show we curated with FIDLAR here.
Hear samples of all of the artists playing in May's show below.
A sampler from Holy Fuck's Latin album, featuring "Latin America," "Red Lights" and "SHT MTN":
James Supercave – "Old Robot"
Wunder Wunder – "Coastline"