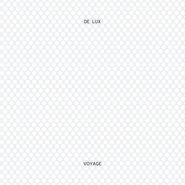 There's been a hole in our hearts lately where dance-rock bands of yore used to reside. De Lux fill that hole admirably with immediate, expansive dance rockers that aren't short on detail or hooks. "Better at Making Time" opens the album subtly, letting its disco bass groove enter four minutes in after giving Sean Guerin's David Byrne-ish vocals a chance to sink in. "Movements" is a true groover, made up of a bunch of interlocking parts—a simple-yet-effective bassline and guitar lick in lockstep, washy synths and chiming bells—while Guerin's vocals get wilder and wilder. The duo of multi-instrumentalists Guerin and Isaac Franco let each song breathe and unfold at its own speed, giving it a couple minutes in "I've Got to Make a Solid Statement (No More Likes & Ums)" before singing a word so we that Stevie Wonder-style clavinet and spacey effects can soak in. Of course, when they get to it, as on the superb "Love Is a Phase," the result is a space-disco opus that leaves you head over heels for the band. Though Voyage is stuffed with cool references, they never feel forced or overdone. It feels as though the young band has digested decades of smart party jams and picked the choices parts to make their own thing—though you could compare them to LCD Soundsystem or The Rapture, for instance, on songs like "Make Space," most of the time De Lux never sound imitative of those bands, as tunes like the interstellar "On the Day" stand completely on their own. It makes Voyage all the more pleasurable, and not at all in a guilty way. Smart disco-punk that makes us dance while satisfying our inner music-snobs? We'll take it and more, please.
EMA - The Future's Void (LP, CD or Download)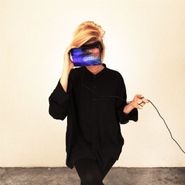 EMA's Past Life Martyred Saints was the terrifically auspicious art-pop debut by Erika M. Anderson aka EMA. Any question as to whether she could replicate its success or even top it is quickly silenced as we listen through her follow-up. The Future's Void is bigger, bolder and more affecting all around. It's also a lot more fun, as it seems Anderson has taken a young lifetime of growing up listening to KROQ and made those formative influences into something truly fascinating. She swings big on songs like opener "Satellites," coming off like a millennial successor to PJ Harvey, with all of the fury and inventiveness that would suggest. She also dabbles in sunny SoCal power-pop ("So Blonde"), touches on Depeche Mode-style emotional synth-pop ("Cthulu") and writes ballads that don't suck ("3Jane," which draws its power from a simple "Be My Baby" beat, droning pianos and Anderson's world-weary vocals). The biggest improvement here is Anderson's vocal ability and overall presence, as she tears her voice to shreds in the choruses of "So Blonde." She comes off like a female Trent Reznor on the aptly titled "Smoulder" and really makes us feel on "3Jane," even as she throws in a cynical line like "it's all just a big advertising campaign." It's sometimes tough to know exactly what she's getting at, given The Future's Void's wild turns, but taken as a whole, it's an incredibly strong piece of work. Its fragmentation seems to be part of the message. If the future's void, we can be whatever we want.
OFF! - Wasted Years (LP or CD)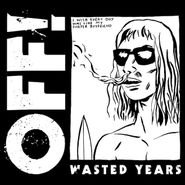 OFF! seemingly came together out of necessity for its musicians, who came up in legendary punk and hardcore bands (Redd Kross, Black Flag, Rocket From the Crypt, Hot Snakes and Burning Brides) and perhaps needed a new outlet. Accordingly, OFF!'s sound is unrelentingly furious, packing legions of hardcore hooks into minute-long bouts. Sooner or later, though, they'd have to go a bit further, and Wasted Years is the sound of OFF! expanding things without losing the immediacy that has made their work so compelling. After a couple of good ol' quick bangers, the album digs into some Black Sabbath-style dark riffery ("Legion of Evil"), complex, metallic screeds ("No Easy Escape") and a song that actually breaks the two-minute mark, the catchy "Hypnotized." Rather than being banged out as quickly as possible, Wasted Years' songs sound whittled away until only the core elements remain—"Death Trip on the Party Train" doesn't need to be a second longer to tunnel its way into your brain. The album is also remarkably consistent, as each of its 16 songs stand out, with second-half standouts like "I Won't Be a Casualty" and "Time's Not On Your Side" (Key line: "There's a 2x4 in my hand slicing my eyes!") maintaining interest throughout. At this point, OFF! stands with any of its members' previous bands as a hardcore punk band for the ages.
Avey Tare's Slasher Flicks - Enter The Slasher House (LP or CD)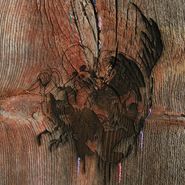 While Animal Collective takes a little break, its members are busy. Panda Bear will have a new release later this year, but first up is Avey Tare, who has previously released a solo album, a joint album with Kria Brekkan and now debuts this new group with former Dirty Projector Angela Deradoorian and former Ponytail member Jeremy Hyman. Far from a vanity project, Slasher Flicks is a full-blown band with a kickass debut album. Anyone familiar with the band's pedigree will be right at home here, amid the tribal, Paul Simon-vibing "Blind Babe," the dancey indie rock of "Little Fang" and the Animal Collective-ish and yes, infectious song "Catchy (Was Contagious)." But it's not just the Avey Tare show, as Deradoorian's ever-aerobic vocals bounce around the edges and give lovely shading to songs like "The Outlaw," and anyone who got to witness Ponytail's livewire act knows Hyman's power as a drummer, which he displays on songs like the dynamic "That It Won't Grow." While we'll always love Animal Collective, it's obvious Avey Tare can create amazing work apart from that band, as he's shown on the magical Enter the Slasher House.
The Mary Onettes – Portico (LP or CD)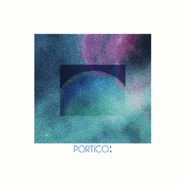 When The Mary Onettes first came out, their blend of shimmery dream pop and upbeat new wave was almost too perfect. Over successive albums, they've made as much of an effort to write complex songs as they have to get the sound just right, and that effort is obvious on Portico, a mini-album that shows off all of the band's strengths. "Silence Is A Gun" is one of the most dynamic pop songs they've written, moving sensually across its various movements and drawing you in with its mysteriousness. "Ritual Mind" moves along a percolating beat like a train traversing gorgeous landscapes, as the band's slow-motion synths and heavily reverbed vocals create a blurred tapestry of sound. As much as The Mary Onettes can dial up the atmosphere and do so well here, one of the things we've come to love the most from this band is their ability to write a great pop song, and they deliver on songs like "Everything Everything," which is like a Cure song blasted with cavernous reverb and irresistible handclaps. And "Naïve Dream" might be their most perfect song since their debut single "Lost," a bleary-eyed new romantic anthem that pulls at you in all the right ways. There we go using the word "perfect" again; it's just such an apt descriptor when discussing The Mary Onettes.
Todd Terje - It's Album Time (LP, CD or Download)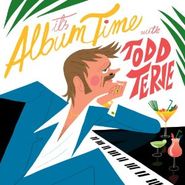 Todd Terje is already one of the most well-respected DJs around, having released dancefloor anthems like "Snooze 4 Love" and "Inspector Norse." But what happens when "it's album time"? The answer is the party album of the year. With his goofy moustache, leisure-suit persona and cool jazz tones, Terje's aesthetic is perfect, and It's Album Time is packed with jammers. "Leisue Suit Preben" moves on a stocky beat, like the world's worst detective sleuthing around, until cinematic strings and an '80s car-chase synthesizer pick up the intrigue. Next for the album's Preben character is Mexico, as "Preben Goes to Acapulco" features wonderous synth explosions worthy of a Disneyland light show. "Svensk Sas" makes us tango in the night, and "Strandbar" is the killer pool-party song we've been looking for all of our lives. While It's Album Time could be the suddenly cool soundtrack for some forgotten '80s B-movie, it also feels incredibly relevant and current, pulling a similar feat to Daft Punk's Random Access Memories. It makes us want to put on our shades, hop in a Delorean and never look back.
See all of this week's new releases here.
Follow PST on Facebook