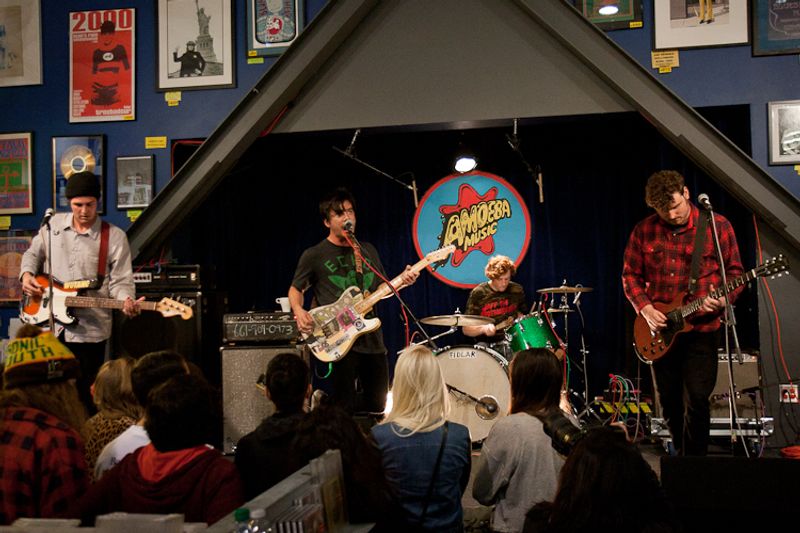 FIDLAR headline the Red Bull Sound Select show at the Echoplex Feb. 27, curated by Amoeba. The L.A. garage-punk band had a hell of a 2013, releasing their acclaimed, self-titled debut record and touring around the world, including with a little band known as The Pixies. They even made the time to stop by two Amoeba stores and playing blistering sets at Amoeba Hollywood and S.F.
The band plays with Cherry Glazerr, the newly announced Cheatahs and Isaac Rother & The Phantoms. It's $3 with RSVP and $12 without. Doors are at 8 p.m.
We caught up with the band before their big performance.
When I last talked with you guys, you were just about to release your first album in stores. Since then, you've played everywhere, including touring with the Pixies! Are you psyched to be back home and playing shows? Does it feel like a homecoming in a way?
FIDLAR: We're definitely stoked to be back home. We've had probably the craziest past year, traveling all over the world and playing shows we'd never thought we would. But we love L.A., and our hometown crowd is always our favorite.
What was it like to tour with the Pixies? Did you learn something? Were you guys ever shitting yourselves out of fear/happiness?
FIDLAR: Surreal is the best way I can put it. I've loved that been since I was a kid, and getting to share the stage with them, and watch them perform every night, was fucking amazing. I learned that Dave Lovering is a magician (which i've something i've always wanted to be). Also, Frank Black loves the film Repo Man.
Have you had the chance to write new material while out on the road?
FIDLAR: There's some songs we've been playing live that weren't on our album, and some new ideas we're working on. I feel like on the road it's hard to actually work out a song but it's good for inspiring ideas.
The saddest thing would be that you guys grew up and stopped drinking cheap beer. Should we expect to hear you guys sing "I drink white wine and it's quite nice" any time soon?
FIDLAR: We actually prefer 2012 Charles Shaw Cabernet Sauvignon.
What's the plan for the rest of 2014?
FIDLAR: Write and record another album and then do it all over again hopefully. I'm hoping for possible South American and Antarctic shows.
You guys still play with a lot of young and hungry bands (not that you're not young and hungry yourselves). Who are some up-and-comers we should look out for?
FIDLAR: Isaac Rother & The Phantoms, Brown and Blue, Jackson Tanner and D. Wing (all from L.A.).