Sharon Jones & The Dap-Kings - Give The People What They Want (CD, LP or Download)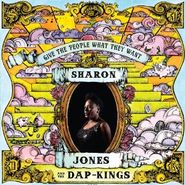 Cancer hasn't gotten Sharon Jones down. The lead singer of the slammin' Dap-Kings has never sounded livelier or feistier than on Give the People What They Want—she's still the hardest-working woman in show biz', a spiritual successor to James Brown and Tina Turner. "Stranger to My Happiness" is a classic Dap-Kings groover along the lines of "Tell Me," an ecstatic ode to moving on from whatever's holding you back. Some of the band's best songs have often focused on forward momentum and feminist sentiment, and that's reflected in songs like the sassy, Led Zeppelin-esque kiss-off "You'll Be Lonely." But there's almost unbridled optimism here, too, on the touching soul ballad "We Get Along," an ode to enduring love and contender for the soundtrack to renewing your vows, if ever there was a song for that. "Making Up and Breaking Up" is classic Motown on the nose, and it's great—you won't be able to get it out of your head. Give the People What They Want truly lives up to its name. It's just one jammer after another, and proof that adversity makes us stronger. Come get your copy of the album signed by Sharon Jones at Amoeba Hollywood Wednesday, January 15 at 6 p.m.!
Cherry Glazerr - Haxel Princess (CD, LP or Download)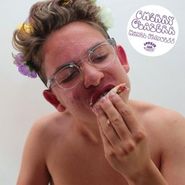 Cherry Glazerr are a thunderous new band from L.A. Their debut record for Burger, Haxel Princess, levies great garage riffs one after another while singer/guitarist Clementine Creevy caterwauls like the second coming of Kim Deal. "I don't wanna be seen, I don't wanna be heard" she cries on the terrific "White's Not My Color This Evening" before unleashing a maniacal laugh in the background, as if being a great band leader is something she can't even control. On the title track, the band doles out a laid-back alt groover, while Creevy's coos go high and ethereal, swooping up and down like a super chill ghost. Wonder if NPR's Chery Glaser rocks out to this?
See all of this week's new releases here.
Become a fan of PST!