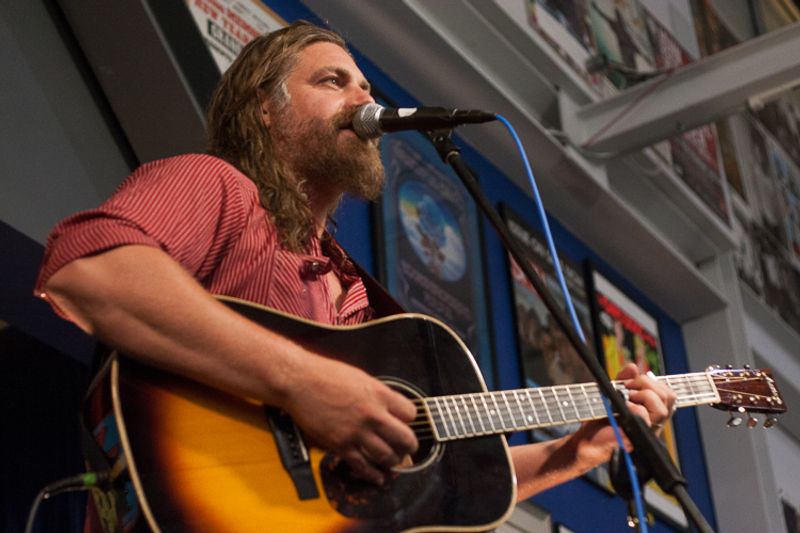 Folk rocker White Buffalo took the stage at Amoeba Hollywood Sept. 11, performing songs from his recently released concept album, Shadows, Greys, and Evil Ways (on CD now or preorder on LP). In the vein of, say, Steve Earle, White Buffalo aka Jake Smith performs americana songs with a satirical bent. His latest album details the life of a young man as he meets a woman and settles down with her, only to head to war, be shot and sent home a changed man who can't cope.
He started with "The Getaway," a waltz detailing the album's two young lovers running away together. In the next song, "Joey White," the character "finds out it's pretty fuckin' hard out there," he said, as the man joins the military seemingly without another choice. Smith had some trouble with the guitar cable during the song, during which he jokingly implored to the audiene, "talk amongst yourself, quit lookin' at me." Unflustered, he started to perform the hard-hitting song acoustically before the power came back—actually, it sounded pretty cool as his guitar sound broke apart while playing, and if anything, it added to the sentiment of things falling apart for Smith's character.
In the minor-key cowboy song "The Whistler," Smith really embodied the inner turmoil of his character, growling "don't you look at me" and painting a bleak picture of the American Dream, ironically whistling peacefully at the song's conclusion. Smith said the character "starts to swing up" in the next song, "Set My Body Free," looking for salvation through either Jesus or suicide—you know, a real uplifting message. In "Redemption #2," Smith sounded desperate as he sang of how the character only would find redemption through the woman he loves, with big strums giving off the sense that the character was fighting for his life. Before performing his final song, Smith called out to the fact that he was performing on 9/11, and indeed the antiwar message of his set hit home on that day, and as the country stood on edge of military action overseas.
See more photos from the event here.