I'm back after a lil' break! Here are some of my favorite local SF/LA area songs and videos of the past couple of weeks:
together PANGEA – "Snakedog" video
We've been waiting for some time for the next full-length from this band (who are now calling themselves "together PANGEA" rather than just Pangea, I guess to avoid confusion with other similarly named acts?). Still waiting on when that album will come out, but for now we've got the first new taste from the L.A. band, the slithery rocker "Snakedog." Sounds like one of those dumb SyFy Channel movies! But it's even better than that! I love these guys, can't wait to hear more. The Snakedog 7" is out now on Harvest Records, and they're on tour this fall, hitting Bardot in Hollywood Sept. 9.
Soft Metals – "Lenses" video
I know I write about these guys a lot, but they seriously have the corner marked on slightly detached yet totally engaging synth pop. "Lenses" is a dreamy title track from their excellent recent release, and since their last video was such a sexy treat, I thought I'd post this one too. Watching it and listening to it sort of feels like being completely wasted and high at some weird after hours place where you start seeing things and you're not sure what's going on.
Wax Idols – "Scent of Love" video
Wax Idols' great album Discipline & Desire sort of flew under the radar this year, so I'm glad the Nor. Cal. post-punk band has released another video from it. Check out the lacey "Scent of Love" video and the rest of Discipline & Desire, out now on Slumberland.
Wax Idols - Scent of Love from Slumberland Records on Vimeo.
Jonathan Rado – "Seven Horses"
It's been a bummer to read about drama within the Foxygen camp, but the music its members produce continues to amaze. Jonathan Rado's latest track from the upcoming Law and Order (due Sept. 3 on Woodsist) is, you guessed it, another perfect slice of whimsical, psychedelic pop. It starts with a vaguely ominous oscillator before the whole thing focuses into melodic view and … you know what? Just listen, it's great.
Chelsea Wolfe – "The Waves Have Come"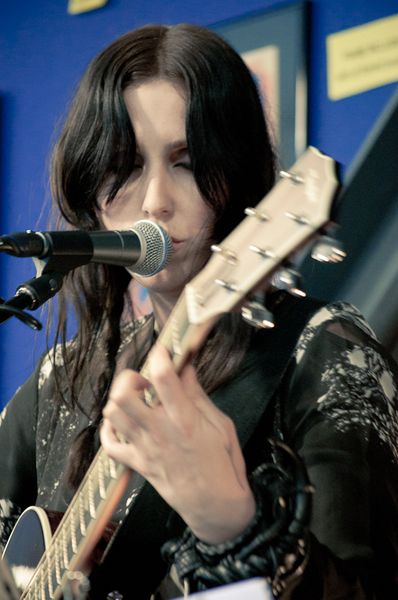 I really don't know what to expect from the new Chelsea Wolfe album. Cool dance pop and alt rock tracks have been thrown at us already, and now we get a song more in line with last year's terrific Unknown Rooms acoustic album. Ghostly vocals swirl around a simple, driving piano as though try to warn someone of impending doom. "This will be hard," she suddenly sings in a break, and then the whole thing groans and rises with strings and an ambling beat that builds to a wonderful climax. It's the kind of thing that begs to be heard in a big, hollow amphitheater. Pain is Beauty is due Sept. 3 on Sargent House; preorder it on CD or LP!
Wymond Miles – "Passion Plays"
Gothy, groovey post-punk from Fresh & Onlys guitarist Wymond Miles. It's kind of a Nick Lowe-meets-The Cure by way of Interpol thing, but it also sounds like its own thing. But if you're anything like me, you were probably hitting play once you read even one of those acts' names. Miles' next full-length is due on Sacred Bones … sometime. Keep an ear out, or CHECK BACK HERE DUDE. Meanwhile, the Passion Plays 7" is due Sept. 17.
I could spend a while finding swell shows to go to list for this weekend, but if you aren't at FYF Fest, you're a damn fool. Go to it to see My Bloody Valentine, Yeah Yeah Yeahs and every other band you want to see right now. And check out the afterparty Sunday night at Part Time Punks with Roses, Dream Boys, Dunes and Fear of Men!