Amoeba has entered into a partnership with L.A.'s Moheak Radio to provide the Amoeba Song of the Week every week for a recorded segment to air on Moheak's online radio station.
This week it's Queens of the Stone Age's "My God is the Sun," from the band's sixth album (and first in six years), ...Like Clockwork (available on CD, LP and LP with alternate cover). The song features the band's trademark heavy, intricate riffery and hard-hitting drums, courtesy of Dave Grohl, who makes a welcome return here after famously appearing on the band's landmark Songs for the Deaf album. After a long absence from the band, "My God is the Sun" is that slab of volcanic rock 'n' roll that fans have been craving. Watch the completely insane video for the song below.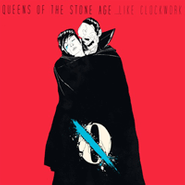 A bit about Amoeba's Song of the Week: Every week we'll provide a song hand-selected by our own staff to Moheak Radio for a recorded segment that will run four times a day (at around 8 a.m., 1 p.m., 5:45 p.m. and once overnight). Besides hearing what our expert staff is into, you'll get the chance to win prizes from Amoeba Music. The giveaways will happen once a week with announcements at least once every four hours leading up to the giveaway, which will take place on Moheak's Facebook page. Check it out, support local/online radio and win some prizes along the way.