Boards Of Canada - Tomorrow's Harvest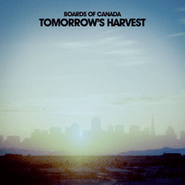 CD $13.98
LP $24.98
Download $9.98
Absence makes the heart grow fonder, the aphorism goes. For Boards of Canada, their absence from releasing music over the past seven years has left their fans rabid for something, anything from the band. Then it came — a series of codes released through various media that, when entered into a website, revealed the release of the duo's fourth studio album. The long wait for new music and the duo's willful obscurity about its release isn't manipulation; it's warranted, as part of the greater mysterious appeal of Boards of Canada, and for the fact that Tomorrow's Harvest features some of the band's greatest work yet. It begins sounding like the opening of a science film on "Gemini," pointing to their early influence from Canadian nature documentaries, but "Reach for the Dead" directly follows with more epic, ominous tones. Boards of Canada have always been able to imbue their wordless music with just enough suggestion that listeners can invoke their own meaning from the music, and as such, one can't help but think of countless awful news stories or meaningless status updates when listening to a track like "Sick Times," which strings ghostly recorded samples of voices speaking in the background behind minor-key tones that hint at global dread. Tomorrow's Harvest isn't all doom and gloom, though. Even with a name like "Cold Earth," it still the strong scent of nostalgia that carried such releases as the In a Beautiful Place Out in the Country EP to great heights, and their cut-up beatwork on tracks like "Jacquard Causeway" entrances. Tomorrow's Harvest is long and loaded with great tracks, like the scenic "Nothing is Real" and pulsating "New Seeds," which both appear in the album's final stretch, making it the kind of record you want to spin again immediately when it's over to let its finer points sink in. With luck we won't have to wait as long for another Boards of Canada release, but Tomorrow's Harvest is the kind of record you can pore over for years, rich enough to rank highly with the rest of the band's estimable catalog.
Surfer Blood - Pythons
Whereas Surfer Blood's first album, Astro Coast, was a cool slab of indie rock, Surfer Blood go full geek on Pythons, and they're better for it. "Demon Dance" doesn't hold one hook back. John Paul Pitts' vocals are clearer, free of much reverb, revealing a lovably nasal, sweet voice that perfectly suits the Cars-influenced power-pop sound they churn out seemingly effortlessly on songs like "Gravity," which twists and turns and keeps you waiting for the next clever verse or catchy riff. "Weird Shapes" skates a line between catchy and cloying, with its singsongy melody and harmonic riffs, but the band successfully navigates it with ease, throwing in screamed choruses and an extended bridge to give it wider scope. Thousands of bands have followed in the footsteps of The Strokes, early Weezer and their forefathers of those bands as Surfer Blood does here, which makes it all the more remarkable that Pythons doesn't feel done-to-death, nor does it feel like a step back for the band. It's a massively enjoyable set of power-pop with smarts. Listen and see; you'll be hooked from start to finish.
The White Mandingos - The Ghetto Is Tryna Kill Me
"I'm too black for the m*thafuckin' underground/The white fans barely tolerate my black ass/If I embrace them, I catch a backlash from the black fans," Murs states plainly on "Black N White Revisited," from his collaboration with Bad Brains guitarist/singer Darryl Jennifer and editor/artist Sacha Jenkins. For artists caught between worlds, The White Mandingos is a brilliant foray into musical freedom, combining Murs' cerebral underground hip-hop with the hardcore ferocity of Bad Brains. Jenkins' guitars cut, shred and destroy on tracks like "Warn a Brotha," with a great line from Murs — "f*ck the Rolling Stones, and f*ck you, too." As with any collaboration that slams together and creates serious sparks, some of it doesn't work — "Wifey" and "King of New York" are a little hokey, for instance. But for a risky collaboration in a straight-up rap-rock band — how un-2013 is that? — The Ghetto Is Tryna Kill Me feels strikingly relevant. It's a shame Murs should even have to say it, but his words still ring true: "Does this sh*t sound black/does this sh*t sound white/Can it just be sound?"
Sonny & the Sunsets – Antenna to the Afterworld
Sonny Smith is said to have contacted a friend who had died by visiting a medium, partially inspiring the sci-fi, death-obsessed sounds of Antenna to the Afterworld. It's their best album yet, slathered in gauzy, lo-fi production that makes everything seem otherworldly as the band plays with a time machine's worth of proto-punk guitar sounds and post-punk synths and beats. While Smith's lyrics venture into strange territory, they're still rooted in relatable emotion, singing "I can't wait to find my little place in your weird world" on album opener "Dark Corners." Beautiful stuff.
Lust for Youth – Perfect View
Download $9.99
Like a Swedish cousin to Oakland's The Soft Moon, Hannes Norrvide's music as Lust for Youth echoes the minimalism and despair of darkwave while staying curiously out of reach. More so than last year's Growing Seeds, Norrvide is able to make that into something more unique on Perfect View, coming through with gothy melodicism on tracks like the great "Breaking Silence."
Disclosure – Settle
Disclosure's fusion of house, dubstep and underground electronica is not to be missed. Guest vocals from AlunaGeorge, Jessie Ware and others help levitate the proceedings from house-head material to lush dance pop.
Deafheaven – Sunbather
Can we invent a new genre name for Deafheaven? How about Pink Metal? How else to describe a band that successfully fuses the beauty and noise of My Bloody Valentine-style shoegaze with the scope and grandeur of post-rock and black metal's blown-out sonic overdrive, pummeling beats and unearthly vocals? Sunbather finds a happy meeting place between these seemingly disparate yet undeniably intertwined strains of guitar-based music and does so with plenty to like for fans of all involved genres.
See all of this week's new releases here.
Become a fan of PST on Facebook!