Laura Marling visited Amoeba Hollywood May 20, on the eve of releasing her latest album, Once I Was an Eagle. Appearing solo, she demonstrated the range and power of her deep, droning strum and her voice, which she wields magnificently, going from a high, quavering coo to deeply intoned phrases that land like a dull arrow to the heart.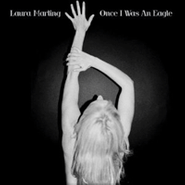 "Damn all those people who don't lose control" she sang in passionate monotone on her extended opening track, "You Know," immediately drawing in the sizable crowd gathered to see her. She pulled out bluesy riffs for "Master Hunter," which spurns a would-be lover by turning around a key Dylan phrase — "if you want a woman who can call your name, it ain't me, babe."
Her next song belied its sweet melody and charming country arrangement with dark lyrics about depression and loneliness ("I couldn't get out of bed, I was all in my head" she sings before warning her paramour, "just don't go bleedin' me dry"). Marling expressed her excitement about playing Amoeba, saying it even surpassed playing L.A. for the first time, at acoustic music haven Hotel Cafe, and said she'd bought a psychobilly comp at the store. Her next song, a languid, prairie ballad saw her calling to mind Emmylou Harris-style heartbreak. On her closing track, Marling took listeners on a more serene journey, chanting "pray for me" over a steady jangle, channeling quiet pain into exquisitely lovely music.
See more photos of the event here.