It's the first big release date of the year, with tons of much-anticipated albums hitting shelves.
Album Picks:
FIDLAR - FIDLAR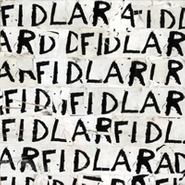 CD $12.98
LP $19.98
FIDLAR's long-awaited debut album is a Pabst-soaked party record with strong songwriting anchoring its punk attitude. Pulling from hardcore, surf rock and pop-punk, and with the immediacy of The Clash's first record, the foursome, made up of singer/guitarist Zac Carper, Brandon Schwartzel (bass), and brothers Elvis Kuehn (guitar) and Max Kuehn (drums), sing about being young and dumb and getting fucked up in songs with names like "Cheap Beer" (the chorus of which consists of the shouted lyrics "I DRINK CHEAP BEER SO WHAT FUCK YOU!"). But all the funny lyrics in the world wouldn't mean a thing if the songs themselves didn't captivate you, and they do, across FIDLAR's 14 tracks. There's nary a hint of cynical sneer, and though they play with sloppy punk abandon, their hooks are tight as a six-pack ring. FIDLAR sing about who they are and what they do, whether that's waking, baking, skating in mechanical hedonism on the ferocious "Wake Bake Skate" or reflecting that said young hedonism can "kind of suck," on the exhausted-sounding closing track. That's a telling moment — for all of FIDLAR's gleeful celebration, the record's honed hooks are the sound of very hard work, and it pays off in spades.
Widowspeak - Almanac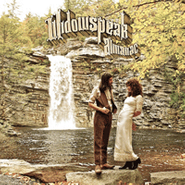 CD $13.98
LP $18.98
Brooklyn band Widowspeak sound like a young gyspy couple on their honeymoon on their second album, Almanac. Organ, mandolin and bass create a candlelight waltz on "Thick as Thieves, with Molly Hamilton's lilting voice laying sweet, sexy nothings over it all. Elsewhere they're more rollicking, as on the thumping "The Dark Age," or in "Ballad of the Golden Hour's" acoustic fireside ditty turned Western-flourished indie rock jam. Though they carefully cultivate their leather and lace aesthetic, Widowspeak indulge in space-rock ("Devil Knows"), Pixies-style jangle ("Spirit is Willing") and other little diversions that prove there's more to them than cool looks and amenable tunes. Widowspeak manage to be adventurous and mellowed out at the same time. You just want to hitch your wagon to theirs and see where they'll head next.
Foxygen - We Are The 21st Century Ambassadors of Peace & Magic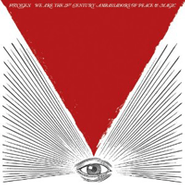 CD $12.98
LP $14.98
Foxygen inject some soulfulness and classic-rock worship into the breathy indie-pop genre on We Are the 21st Century Ambassadors of Peace & Magic. Opener "In the Darkness" is brief, only two minutes, and manages to seriously vibe on Sgt. Peppers, with its regal horns, sampled cheers and general fanfare. By the next track, they've moved on to loopy Kinks-style pop that allows itself to meander sweetly for nearly six minutes while keeping tethered to a simple-but-sure arrangement and fun lyrics "there's no need to be an asshole/you're not in Brooklyn anymore." It's sort of shocking how revelatory Foxygen's slow-burning soulfulness and willingness to openly ref The Rolling Stones sounds in 2013. More so than shocking, it sounds fucking great.
Nosaj Thing - Home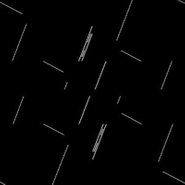 CD $12.98
LP $19.98
DIGITAL $9.98
In the three years since Nosaj Thing's acclaimed Drift was released, the LA-based producer has been busy, producing for the likes of Kendrick Lamar and Kid Cudi. His second album presents a more confident Nosaj Thing, one who is open to collaboration, and thus creates a more inviting (but still innovative) sound world on Home. Kazu Makino of Blonde Redhead appears on the stunning "Eclipse," whose backward guitar sounds and almost alien vocals contribute greatly to the haunting atmosphere Nosaj Thing creates. Feminine vocals appear too on the more atmospheric and beautifully bleak "Safe," cooing over the beat, and on the glitchy hip-hop jam "Glue." By drawing us in, Nosaj Thing stands to expand his audience greatly with Home. Of course those indie superstar guest spots help — Toro y Moi appears on the serene "Try" — but Nosaj Thing's draw is his mellowed-out focus.
The Growlers - Hung At Heart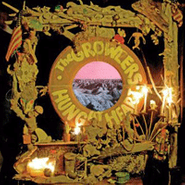 CD $13.98
LP $19.98
The Growlers create compelling desert rock on Hung at Heart, plying their surf rock with African rhythms. Singer Brooks Nielsen's Dylanesque drawl gives things a shaded, laid-back atmosphere while the band works up a sweat on songs like the carnivalesque "Salt on a Slug." Nielsen is as comfortable playing '50s crooner ("Someday") as he is putting on his pancultural Paul Simon hat ("Row"). The band's elasticity goes a long way, as they're more than able to wrangle their influences into an immediately enjoyable garage-rock sound that's smarter than first blush would success. Hung at Heart may sound silly from its title, but these OC lads are seriously talented.
Bad Religion - True North
CD $13.98
LP $19.98
As reviewed elsewhere in the Amoebasphere: Elder statesmen of SoCal melodic hardcore Bad Religion have had a huge influence on a lot of young and old punkers' lives, and are practically a scene unto themselves. Now in their fourth decade as a band, Greg Graffin and co. are back with their 16th album, and it's just as sharp and punchy as their '80s classics like Suffer and No Control. Brett Gurewitz and Greg Hetson strike the match with speedy, chunky riffs, and Graffin spits mordant political critique on songs like "Robin Hood In Reverse" and "Land of Endless Greed." As always, it's electrifying stuff, never more so than on the glorious power pop of "Fuck You" (which kind of sums up their entire career in three hot minutes). They neatly work a little moralizing into their 'true north' theme without bumming out the mosh pit, a good trick of Graffin's that makes them more fun to listen to than Rage Against the Machine. Though no spring chickens, they rock it hard, fast and tight, with plenty of fire and harmony. Our crappy world needs Bad Religion to set things right!
Toro Y Moi - Anything In Return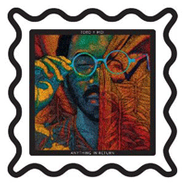 CD $13.98
LP $19.98
It looks like Toro y Moi's last release of new material, the Freaking Out EP, was no detour or dump. Chaz Bundick has returned to creating more dance-oriented material after Underneath the Pine's more psychedelic feel. Bundick's honing down of his sound leads him to the layered, early '90s house feel of Anything in Return's opening tracks. But his music is anything but simple; how to explain "So Many Details," a kind of psyched-out hip-hop track with Commodore 64 sound effects and faded out vocals floating over like chem trails? Fans who wanted Bundick to expand on the chillwave sound of his debut with better, more defined beats will thrill to songs like "Rose Quartz," which pairs its summery flow with warped keyboard lines that keeps everything a little buzzed and wobbly. The most notable change here is Bundick himself, who makes himself more present, more of a personality across Anything in Return, after tending to somewhat hide in the background of his elaborate creations; while some tracks veer on instrumental, on others, such as "Cola" and "Studies," Bundick steps out of the shadows as a chilled out hip-hop/R&B crooner in the vein of Frank Ocean and How to Dress Well, though his insistence on strange musical diversions and ornate arrangements sets him apart. It's just that now, Bundick's twiddling the knobs AND rocking the party.
John Paul White - The Long Goodbye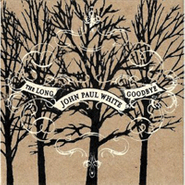 CD $13.98
LP $15.98
From the Amoebasphere: Before taking the Americana scene by storm with Joy Williams in the Grammy-winning Civil Wars, Tennessee troubadour (and Johnny Depp lookalike) John Paul White released this solo album in 2008, and it's a barnburner. Remarkably assured on his debut recording, he spins hard, hypnotic, emotional tales, his voice ringing with the apocalyptic desperation of Thom Yorke or Win Butler. Pure yearning intensity that redoubles when he hits those swooping choruses. It's a little more indie and a little less folk than the Civil Wars, but it's easily as good, and it will be a revelation for Civil Wars fans.
Soul Jazz Records Presents: Studio One Ironsides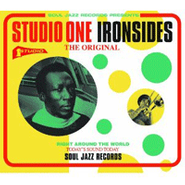 CD $16.98
LP $24.98
Studio One produced so much essential music from Jamaica in the 1960s and '70s that any new collection of music from the label/recording studio is a boon for fans of classic reggae. This two-disc collection from Soul Jazz has so much great music that's it's hard to even cover, from Marcia Griffith's echoed declaration of love on "Mark My Word" through The Gladiators' creeky, creepy "Bongo Red." Several of these songs could easily work their way into your favorites collection — I'm partial to The Paragons' "Danger in Your Eyes," with its vibrant brass and sad harmonies. Suffice to say, the songs here are crucial for reggae and dancehall fans and, as with many Studio One compilations, serve as a great primer for those looking to explore classic Jamaican sounds of the era.
FaltyDL - Hardcourage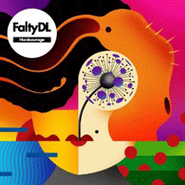 CD $13.98
LP $22.98
DIGITAL $9.98
New York-based house producer and stylistic chameleon FaltyDL strikes again with a third album of genre-hopping electronic music. Within the first track, "Stay I'm Changed," FaltyDL builds from textured ambience to a straight house track, but that unsure ambient feel remains in the background, occasionally floating to the surface and giving the track buoyancy and mystery. Friendly Fires' Ed Macfarlane lends his falsetto to "She Sleeps," making the track sound somewhat like a Friendly Fires remix. He sticks to samples elsewhere on the album, such as on "Straight & Arrow," which feels like a funkier, more optimistic cousin to dubstep. This is to say FaltyDL doesn't stay within any electronic constraints of garage or bass or what have you. He freely slows down the pace on "For Karme," gets jungly on "Finally Some Shit/The Rain Stopped" and blisses out on "Bells." What remains constant is the fluttering sense of wonder the producer injects into each track.
Chris Hardwick - Mandroid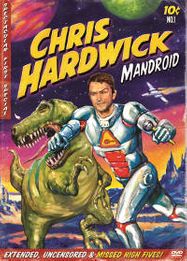 CD $12.98
DVD $12.98
From the Amoebasphere: The impresario behind the Nerdist Network, host of The Talking Dead, and TV Veteran Chris Hardwick, celebrates all things nerdy in his first Comedy Central special. Hipsters beware: there is no irony in Chris's affinity for Captain Picard, Comic-Con and the Atari 2600. Mandroid features candid tales that cover virginity, chess club, shark vaginas, awkward childhood, awkward adulthood (which in his case is an extension of childhood) and a myriad of other topics which may or may not include Quidditch.
Adam Ant - Adam Ant Is The...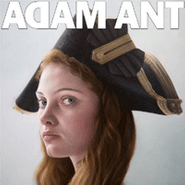 CD $13.98
LP $14.98 [LP out 2/19]
From the Amoebasphere: Adam Ant is still the coolest guy on the planet. And let's face it, he's a bit kookoo. But he looks damn sexy in that pirate hat and he can still sing like a teen angel, and he's more of a rock 'n' roll highwayman than most of what you get nowadays. The '80s are over, and there are no nuromantic sockhoppers like "Antmusic" on this sprawling homemade collection (Marco Pirroni was originally supposed to collaborate but bowed out). But there are plenty of tough, twangy tunes (most co-written with Boz Boorer), much wild wailing, and some real gems like "Vince Taylor" and "Cool Zombie" that will get you boppin'. Also a few touching tributes to old friends ("Vivienne's Tears" for Vivienne Westwood and "Who's a Goofy Bunny, Then?" for the late Malcolm McLaren). So let's thank christ for the great rock & roll eccentrics, raise a glass to the Blueblack Hussar, and crank up the stereo for a delightful trip into the weird world of a rockabilly maniac. Vive Le Ant!
The Joy Formidable - Wolf's Law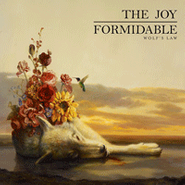 CD $13.98
LP $19.98
The Joy Formidable mined such pleasure out of throbbing alt-rock The Big Roar that it would have been a shame to see them abandon that for a more "mature" sound — thankfully they don't on Wolf's Law, another thick slab of buzzy pleasure. The success of their sound isn't so secret; frontwoman Ritzy Bryan isn't afraid to make her voice sound strong and pop-oriented, rather than airy or reverb-soaked, and her band's arrangements are deceptively complex even while wielding their axes like it's 1995. It's precisely their enthusiasm that sells you.
Gliss – Langsom Dans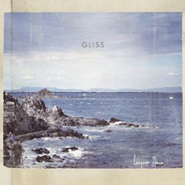 CD $13.98
LP $22.98
Gliss moves beyond the Smashing Pumpkins/Jesus & Mary Chain comparisons of the past to a sound more their own on Langsom Dans. Taking a cue from their fellow Danes The Raveonettes, Gliss embrace electronic drums and let their vocals break through the often thunderous din the band creates, elevating songs like "A To B" and "Into the Water" beyond merely being pretty and atmospheric. They establish a unique sensibility on first single "Weight of Love," a sexy, lush electro-noir track that builds to a big chorus and nicely features Victoria Cecilia's sultry vocals. Cecilia also shines on "Blur," showing their indebtedness to My Bloody Valentine's Loveless without overly aping it, transforming shoegaze shyness into ecstatic, lovelorn pop. While the band doesn't always rise to the overly grandiose ambitions they set for themselves, they prove more than capable of casting an entrancing spell on Langsom Dans. They're at Los Globos with a Monday residency all of February; I hope they do their "Rhinoceros" cover there!
Ra Ra Riot - Beta Love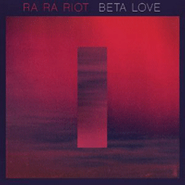 CD $13.98
LP $16.98
The Syracuse, N.Y. band returns with a dancetastic new album.
Petra Haden - Petra Goes To The Movies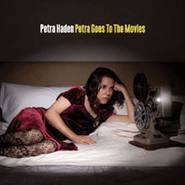 CD $13.98
LP $19.98
The singer/violinist and former That Dog. member sings classic movie themes.
Camper Van Beethoven - La Costa Perdida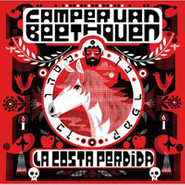 CD $11.98
The classic college rockers return with their eighth album.
Relevant Tags
New Albums
(213),
New Releases
(214),
Fidlar
(18),
The Growlers
(12),
Widowspeak
(7),
Nosaj Thing
(1),
Foxygen
(12),
Gliss
(1),
Toro Y Moi
(13),
Faltydj
(1),
Petra Haden
(2),
Ra Ra Riot
(3),
Bad Religion
(4),
John Paul White
(2),
The Civil Wars
(5),
Soul Jazz
(5),
Studio One
(2),
Reggae
(18),
Chris Hardwick
(3),
Adam Ant
(3),
The Joy Formidable
(5)