I love this:
Of course, there's a million reasons. But I will only bore you with a few because I am aware that I am not fascinating: a lot of the time, I don't give a flippin damn what someone has to say with the lyrics they agonized writing - like Shelley in a smelly, dive bar. Sometimes? I don't care!!!!!! Raaaaaaarrrrgh!!! Also, it's like the man said, "...
essentially I'm an animal, so just what do I do with all the aggression
?"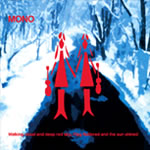 Mellow me will put on a
Mono
album such as ...
or
Explosions in the Sky
.
Also, I think in a couple of years my hair will resemble the dude on vocals. At which point I will find someone very gullible and say that that was
me
in the video, and we had everyone else stand in holes like they did when filming the Hobbits in Lord of the Rings. I will not live this lie, but I will ride it for an hour or so. Then, laughter. (mine)
Of course, I also love this:
Ha! Ha! Baby goat!! Ha Ha!! Is anyone else very sad that they do not have a pet like this goat? Please raise your hands. Also, is anyone else very sad that they cannot order
merchandise, (cough ShopperTshirt Addict cough) from Mono? Or that I seem to have lost my copy of
The Earth is Not a Cold Dead Place
... ?
Can't they release more versions of this so I can buy them:
'The world is changed. I feel it in the water. I feel it in the earth. I smell it in the air.'