Youth Code – "Consuming Guilt"
Industrial/EMB duo Youth Code are really firing on all cylinders on the first song from their next EP, "Consuming Guilt." Or rather they're firing dirt and smoke into your face and then spitting on you to clean yourself up. Industrial filth hasn't felt this good in a long while. It's from the A Place to Stand EP, due Sept. 23 on Dais.
The Growlers – "Good Advice"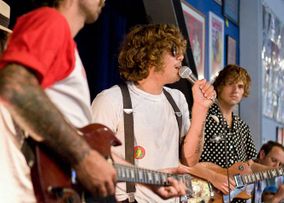 A whirling farfisa organ drives this garage-pop ditty from SoCal's Growlers through a subtly twisting arrangement and square into your cranial region. "There's nothing as depressing as good advice," Brooks Nielsen sings in a bittersweet rasp, adding, "Nobody wants to hear how to live their life." Maybe the best thing we've heard from the band yet! Chinese Fountain is out Sept. 23 on Everloving. Preorder it now on LP or CD.