When you're looking for holiday music, there are always the old reliables, but sometimes we need some fresh tunes. Just like we did last year, here are a few great new holiday albums that have just been released on LP.
Sharon Jones & The Dap-Kings – It's a Holiday Soul Party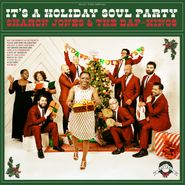 Sharon Jones & The Dap-Kings come up with a winning set of originals and classic holiday tunes, all rendered in their impeccably performed and produced retro-funk-soul style. The band strikes all the right notes, from celebratory (a "White Christmas" rave-up is an easy standout) to wistful ("Ain't No Chimneys in the Projects" and "Please Come Home for Christmas" are especially touching). It hangs together beautifully as a set and would work perfectly as an upbeat backdrop to any holiday soiree.