There's this thing going around the Internet right now saying Axl Rose is the greatest singer ever.
This list by something called Concert Hotels has actually done something really cool by showing the recorded vocal ranges of some of pop music's most celebrated singers, taken from Rolling Stone's 100 Greatest Singers of All Time list. The Guns N' Roses singer came in at No. 1, meaning he has the widest recorded range.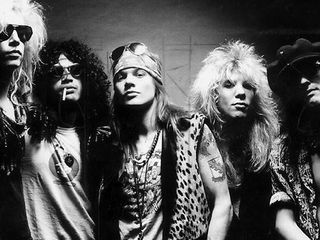 Axl Rose (center) in Guns N' Roses
It's fun to see Bob Dylan, Tom Waits, Lou Reed, Iggy Pop and others represented pretty well on the list—did you know Lana Del Rey's recorded vocal range is three octaves, dwarfing Taylor Swift's two-and-change? Or that Eminem has a recorded range of more than three octaves?