Every year Amoeba kicks off Mardi Gras with a Fat Tuesday celebration, and this year once again a portion of the proceeds from all three Amoeba stores will benefit relief efforts in New Orleans.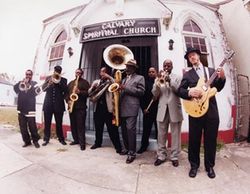 The Dirty Dozen Brass Band
Taking place Feb. 12, the celebration will include a performance by the Dirty Dozen Brass Band at 2 p.m., DJs spinning New Orleans sounds starting at 1pm and our annual Second Line Parade follwing DDBB. The family-friendly event draws crowds every year.
This year Amoeba will be exclusively distributing the CD Congo Square Vol. 1, the first of six planned volumes tracing the development of New Orleans music, with all proceeds of the sale benefiting New Orleans relief efforts. Read more about The Congo Square Project in Billyjam's interview with Congo Square producer Fabian Jolivet. Additionally we invite you to check out Amoeba.com's Vinyl Vaults, featuring more than 100 remastered songs by blues great Louis Armstrong, from the years 1923 to 1932, many exclusively available from Amoeba to download for the first time ever. Read more about our Louis Armstrong archives here.