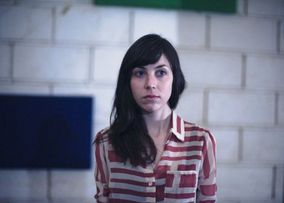 L.A. experimental singer/songwriter Julia Holter has announced a new album called Have You in My Wilderness, due Sept. 25 on Domino. It's the follow-up to 2013's excellent Loud City Song. The first track is called "Feel You," debuting a sound that's a bit warmer and more open for Holter, though there's still plenty going on beneath the surface—a layering of sunlit strings and harpsichord make the bed for a syncopated beat and Holter's clipped observations and spoken-word bits to skip through. It's just as expressive and sweet as that little dog's face in the video for the song, directed by Jose Wolff, that premiered today on Pitchfork.
Wand – "Stolen Footsteps"
One of our favorite garage-rock bands, Wand, already put out an excellent album this year called Golem, but they're back at it again with a new album called 1000 Days, which will be released Sept. 25 and will be their Drag City debut. From the sound of "Stolen Footsteps," the L.A./S.F. band has made some major overhauls to their sound, eschewing the huge distortion of previous albums in favor of floral analog synth runs and gently psychedelic melodies, coming off like The Kinks jamming with Berlin-era Bowie.