L.A. Takedown – L.A. Takedown Stream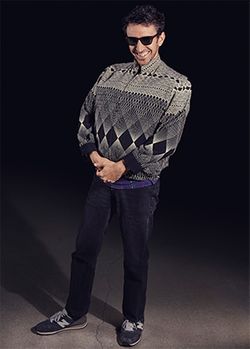 Composer/musician Aaron M. Olson's L.A. Takedown is doing an L.A. takeover, performing at different area record stores as he releasse his self-titled debut on Ribbon Music. The cinematically minded artist performs as a full-fledged band live and will perform Nov. 15 at 4 p.m. at Amoeba Music, and we'll have the album in-store that day prior to its Nov. 20 wide release. Stream the album's throbbing analog synthesizers and dramatic turns here.
Seth Bogart – "Eating Makeup (featuring Kathleen Hanna)
Seth Bogart has delivered sweaty garage-pop goods for years under the Hunx moniker, solo and with His Punx. Now he's setting out under his own name with a more lo-fi electro-pop tunes called "Eating Makeup" that recalls his time in Gravy Train!!!!, getting silly with Kathleen Hanna over a chintzy beat with post-punky, out-of-tune guitars. Cole MGN produces, who's worked with Ariel Pink and Julia Holter, among others. Bogart's solo album is due early next year on Burger and will also feature collaborations with Tavi Gevinson, Cherry Glazerr and Chela.