Amoeba has entered into a partnership with L.A.'s Moheak Radio to provide the Amoeba Song of the Week every week for a recorded segment to air on Moheak's online radio station.
This week it's The Cyclist's "Visions," from the U.K. producer's latest album, Bones in Motion, on Stones Throw Records. "Visions" combines clanging percussion, analog synth sounds and bits of white noise for a song that tunnels down new corridors in your mind. The track also was included on the album Dual Form, a double-disc compilation to kick off L.A.-based label Leaving Records' distribution via Stones Throw that also features Sun Araw, Dntel and others.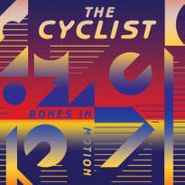 A bit about Amoeba's Song of the Week: Every week we'll provide a song hand-selected by our own staff to Moheak Radio for a recorded segment that will run four times a day (at around 8 a.m., 1 p.m., 5:45 p.m. and once overnight). Besides hearing what our expert staff is into, you'll get the chance to win prizes from Amoeba Music. The giveaways will happen once a week with announcements at least once every four hours leading up to the giveaway, which will take place on Moheak's Facebook page. Check it out, support local/online radio and win some prizes along the way.