Our recent purchase of a large record collection from the New Jersey area of more than 4,000 LPs from an iconic industry family had a lot of great, rare and one-of-a-kind items. But one piece in particular that stands out from the rest.
One of only five test pressings known to exist of an early version of Bob Dylan's classic album Blood on the Tracks now sits on the shelves of Amoeba Hollywood. The pressing includes four previously unreleased takes of songs from the album ("Lily, Rosemary & The Jack Of Hearts," "Idiot Wind," "If You See Her, Say Hello" and "Tangled Up In Blue"), plus an alternate take of "You're a Big Girl Now" that was released on 1985's Biograph box set.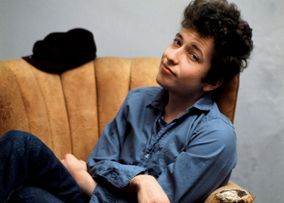 The story goes that in the fall of 1974, Bob Dylan went home for the holidays with a copy of his newly recorded album Blood on the Tracks, which was set to release in weeks. The album had been written after touring with The Band and becoming estranged from his wife, Sara, and though the resulting album delves deeply into troubled relationships, Dylan himself has denied that the album is autobiographical.