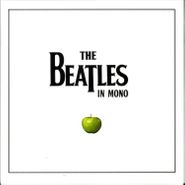 $449.48
Buy
Artist:
The Beatles
Genre:
Rock
Release Date:
09/09/2014
Label:
Capitol
Catalog Number:
6337971
Recording:
Studio
Sound:
Mono
Length:
Format:
Vinyl LP
Note:
PLEASE NOTE: THIS ITEM SHIPS TO U.S. ADDRESSES ONLY.
180 Gram Vinyl Mono Box 14LP Set Includes:
Please Please Me
With The Beatles
A Hard Day's Night
Beatles For Sale
Help!
Rubber Soul
Revolver
Sgt. Pepper's Lonely Hearts Club Band
Magical Mystery Tour
The Beatles (The White Album) (2LP)
Mono Masters (3LP)
The Beatles In Mono Vinyl Box Set [180 Gram Vinyl] (LP)
The Beatles
Buy
$449.48
SHIPS FREE
in U.S.
Amoeba Review
09/08/2014
A lavish, limited edition box set featuring 14-LPs remastered in mono at Abbey Road direct from the analogue masters on 180-gram vinyl. The Beatles In Mono Vinyl Box includes the Beatles' nine U.K. albums, the American-compiled Magical Mystery Tour, the Mono Masters collection of non-album tracks, and a 108-page hardbound book.
Overall Rating
0 Submissions