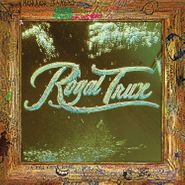 View all Photos

$29.98
Currently Unavailable
Artist:
Royal Trux
Genre:
Rock
Release Date:
03/01/2019
Label:
Fat Possum Records
Catalog Number:
17043
Recording:
Studio
Sound:
Stereo
Length:
Format:
Vinyl LP
Note:
Indie Exclusive Pizza Colored Vinyl
Limit One Per Customer
White Stuff [Pizza Colored Vinyl] (LP)
Royal Trux

Currently Unavailable
$29.98
SHIPS FREE
in U.S.
Amoeba Review
09/03/2020
After nineteen years of studio silence, the most rock 'n' roll band in rock 'n' roll returns. Royal Trux haven't relented one bit on White Stuff, getting down 'n' dirty, getting weird, and getting out of control. This long-awaited collection of songs is rowdy and raucous (and with a special appearance by the mighty Kool Keith on "Get Used to It"!) Ultimately, it's just pure fun — and ain't that the spirit of rock 'n' roll, right there?
Overall Rating
0 Submissions