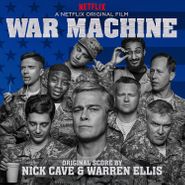 $15.98
Currently Unavailable
Artist:
Nick Cave
,
Warren Ellis
Genre:
Soundtracks
Release Date:
06/02/2017
Label:
Lakeshore
Catalog Number:
35011
Recording:
Studio
Length:
Format:
CD


NOW OPEN!
Visit our new Berkeley
Cannabis Dispensary
located next door!
War Machine [OST] (CD)
Nick Cave , Warren Ellis
Currently Unavailable
$15.98
SHIPS FREE
in U.S.
Amoeba Review
Nick Cave and his Bad Seeds co-member Warren Ellis score this Brad Pitt film with self-described "spiritual electronics." It's a statelier soundtrack than you might expect from the prince of gloom, full of wondrous and meditative pieces, though Cave and Ellis still drum up plenty of anxious dread.
Overall Rating
0 Submissions