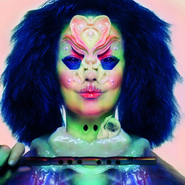 $18.98
Currently Unavailable
Artist:
Björk
Genre:
Rock
Release Date:
11/24/2017
Label:
One Little Indian Uk
Catalog Number:
1381
Recording:
Studio
Length:
Format:
CD


NOW OPEN!
Visit our new Berkeley
Cannabis Dispensary
located next door!
Currently Unavailable
$18.98
SHIPS FREE
in U.S.
Amoeba Review
09/07/2020
This ethereal, abstract, intriguing album was written to explore the concept of utopias, but also to process the current political, environmental, and personal challenges the singer was facing. Utopia is Bjork at her best: boundary-pushing, challenging, and emotionally connected.
Overall Rating
0 Submissions