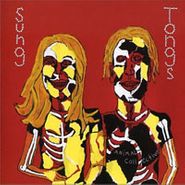 $26.98
Currently Unavailable
Artist:
Animal Collective
Genre:
Rock
Release Date:
08/16/2011
Label:
Fat Cat
Catalog Number:
8
Recording:
Studio
Length:
Format:
Vinyl LP
Sung Tongs (LP)
Animal Collective
Currently Unavailable
$26.98
SHIPS FREE
in U.S.
Amoeba Review
Billy Gil, Hollywood 01/14/2015
Recorded by just Avey Tare and Panda Bear, Sung Tongs wrangled the band's wild ideas into more digestible songs—though "Who Could Win a Rabbit" is still plenty screwed up, however catchy it may be. It placed emphasis on the duo's primitivist vocals and trance-inducing harmonies while still for plenty of space to permeate through. Like Campfire Songs, Sung Tongs feels mystical and alluring, but its memorable melodies helped take the band from an exciting, experimental act to a band capable of brilliant, innovative songwriting. "Winter's Love" gets us every time.
Overall Rating
0 Submissions