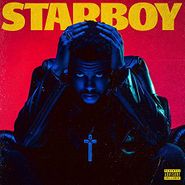 $16.98
Currently Unavailable
Artist:
The Weeknd
Genre:
Soul
Release Date:
11/28/2016
Label:
Republic/Universal
Catalog Number:
B0025919-02
Recording:
Studio
Length:
Format:
CD


NOW OPEN!
Visit our new Berkeley
Cannabis Dispensary
located next door!
Starboy [EXPLICIT] (CD)
[Explicit]
The Weeknd
Currently Unavailable
$16.98
SHIPS FREE
in U.S.
Amoeba Review
Featuring guest appearances from Daft Punk, Kendrick Lamar, Lana Del Rey, and Future, the album is brighter, splashier, and more polished than Weeknd's early, ultra-underground mixtapes. Mr. Weeknd himself, Abel Tesfaye, has an impressive ability to merge pop culture into his own dark vision. This is an album inspired equally by The Smiths, Prince, Bad Brains, DeBarge, David Lynch, and David Cronenberg.
Overall Rating
0 Submissions