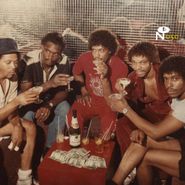 $89.98
Currently Unavailable
Artist:
Various Artists
Genre:
Soul
Release Date:
12/03/2013
Label:
Numero Group
Catalog Number:
NUM050
Recording:
Studio
Length:
Format:
Vinyl LP
Purple Snow: Forecasting The Minneapolis Sound [Box Set] (LP)
Various Artists
Currently Unavailable
$89.98
SHIPS FREE
in U.S.
Amoeba Review
Mark Ayala, Hollywood 02/04/2014
Prince may have cleansed himself in the water of Lake Minnetonka, but dozens of other Minneapolis funk musicians soaked in the citiy's hundred other lakes too. Purple Snow traces the Minneapolis funk sound from the days of post-'60s slow jams to synth heavy, drum machine dance. Plus, it comes with a full color book detailing the city's musical history, photos of the scene and extensive notes on each featured group.
Overall Rating
0 Submissions