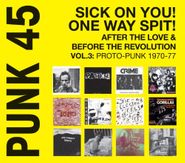 $26.98
Buy
Artist:
Various Artists
Genre:
Rock
Release Date:
05/06/2014
Label:
Soul Jazz Records
Catalog Number:
279
Recording:
Studio
Length:
Format:
CD
Punk 45: Sick On You! One Way Spit! After The Love And Before The Revolution Vol. 3: Proto-Punk 1970-77 (CD)
Various Artists
Buy
$26.98
SHIPS FREE
in U.S.
Amoeba Review
Daniel Tures, Hollywood 06/26/2014
What a mouthful, that title. What an insane slab of evil sexy sci-fi rock & roll trash from the golden era this is, pre-punk punk that's more punk than punk. Before punk got all fey and fashiony, whiny and formulaic, dirty '70s hippies with sick minds and no cool, often stuck in tiny towns in the middle of nowhere, made the real thing -- music that's heavy, desperate, hilarious, frantic, explosive, and vastly more creative than Sham 69. Debris, Death, Zolar X, George Brigman, Crime, this is what you REALLY need. Finally a punk compilation that gets it right!
Overall Rating
0 Submissions