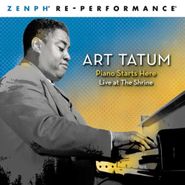 $12.98
Currently Unavailable
Artist:
Art Tatum
Genre:
Jazz
Release Date:
06/03/2008
Label:
Sony Classical
Catalog Number:
88697-22218-2
Recording:
Live
Length:
Format:
CD
Note:
SACD/DSD Zenph Studios "re-performance" hybrid disc. The re-performance process takes the original sound file recording and through software and hardware re-creates the initial performance with a modified live acoustic piano and re-records the results in high definition surround.
Piano Starts Here: Live At the Shrine - Zenph Re-Performance (CD)
Art Tatum
Currently Unavailable
$12.98
SHIPS FREE
in U.S.
Overall Rating
0 Submissions