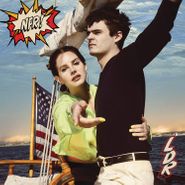 $16.98
Currently Unavailable
Artist:
Lana Del Rey
Genre:
Rock
Release Date:
08/30/2019
Label:
Interscope Records
Catalog Number:
3087802
Recording:
Studio
Length:
Format:
CD


NOW OPEN!
Visit our new Berkeley
Cannabis Dispensary
located next door!
NFR! (CD)
[Explicit]
Lana Del Rey
Currently Unavailable
$16.98
SHIPS FREE
in U.S.
Amoeba Review
08/04/2020
For Norman Fucking Rockwell, Lana Del Rey changed things up by collaborating with Jack Antonoff of indie rock groups Bleachers and Fun. She also threw in a surprisingly angelic cover of Sublime's "Doin' Time/Summertime," in which she eschews her usual sardonic tone and reveals more of her vocal range. But never fear, "Fuck It I Love You" is appropriately swooning and sultry with her bad girl image intact, despite moments of pure sweetness, as in when she sings, "Dream a little dream of me." "The Greatest" is more of a straightforward pop-soul number with a lovely chorus and delicate harmonies, while "hope is a dangerous thing for a woman like me to have . . ." is a sparse and poetic ballad with a nod to Tori Amos.
Overall Rating
0 Submissions