Movies We Like
Being Elmo: A Puppeteer's Journey
Dir: Constance Marks & Philip Shane, 2011. Starring: Kevin Clash, Narrated By: Whoopie Goldberg. Documentary.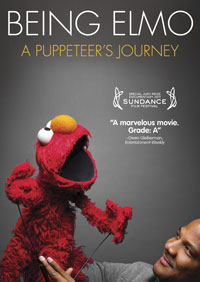 THE CLASH
Kevin Clash grew up in a sizable family of humble means. He began watching
Sesame Street
as a young boy, which led to watching
The Muppet Show
. His ravenous interest in creating and performing his own puppet characters grew. He started performing for children at his mother's day care center, which led him down a path that would ultimately blossom into a promising career as a puppeteer. But not just any puppeteer. He would ultimately become one of children's most beloved icons, a little red fury monster named… Elmo! Not too shabby for a shy boy from the suburbs of Baltimore.
IT'S NOT EASY BEING… ELMO
Throughout the film it is made very clear that "being Elmo" is a consuming force for Kevin Clash. The two entities are completely linked, which not only shows the brilliance that is Elmo, but also Clash's complete devotion and dedication to his craft, his fans and the meaning that is behind what Elmo stands for. Not to mention the exhaustion that comes with all that is Elmo. The numerous interviews with family, friends and colleagues give great perspective and adoration for the man and the little red monster. This is awesome inspirational stuff folks!
HANDS UP
I couldn't help but be delighted in the amount of footage of Kevin coming up as a young puppeteer. We see him performing for children, meeting Kermit Love* for the first time, working on
Captain Kangaroo
and
The Great Space Coaster
, filming
Labyrinth
and making his early puppets. There is a particular sequence that shows an early audition tape for
Captain Kangaroo
. It highlights his evolution as a performer. It's stellar.
*Kermit Love was the head builder of muppets for
Sesame Street
back in the day.
THE LOVERS, THE DREAMERS AND ME
This film not only tells the awesome and inspirational journey of Kevin Clash but I also related to it on a personal level that I rarely experience with a film. It left me feeling excited, uplifted and inspired. One of my earliest dreams was to meet Jim Henson.
The Muppets
had completely sparked my imagination. To watch Kevin Clash's journey unfold allowed me to relive that excitement and peer into a world I've admired for many years. There is so much amazing information about the inside world of
The Muppets
that you collect along the way. I encourage any Muppet fan to watch this. It will surely fulfill your "Inner Muppet Geek."
Posted by:
Joey Jenkins
Jul 26, 2012 3:12pm