Movies We Like
Spider-Man 2
Dir: Sam Raimi, 2004. Starring: Tobey McGuire, Kirsten Dunst, Alfred Molina, James Franco.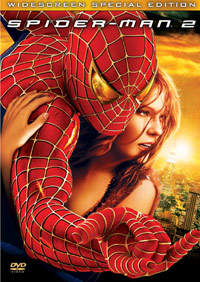 Spider-Man 2
is not only one of the best sequels ever made, it's easily one of the best superhero movies ever made. And while the first
Spider-Man
most definitely felt like a Sam Raimi film, this one is 100 percent the filmmaker we've come to know and love over the years through films such as the
Evil Dead
trilogy to
Darkman
and
A Simple Plan
. It's not surprising that his influence is more recognizable in the sequel looking back now in retrospect. The first
Spider-Man
was a major gamble for everyone involved. For Marvel, for the studio (Sony in this case), hell, even for the toy companies which I'm convinced are the reason the Green Goblin looks the way he does rather than looking like his comic book counterpart in appearance. But the gamble paid off and director Raimi delivered in spades, satisfying not only all the interested parties involved in the first movie's investments, but savvy comic book fans and worldwide movie-goers alike. So, with the mega-success of the first
Spider-Man
, it feels like they pretty much left him alone to make the sequel exactly how he wanted to make it.
And the opening alone is impressive and unique. We're re-told the plot and events of the first
Spider-Man
during the opening credit montage through a series of amazing drawings by comic artist legend Alex Ross, backed by Danny Elfman's returning score. Once we're brought up to speed, we pick up about two years after the events of the last movie and are thrown right into the hectic life of Peter Parker (Tobey McGuire), who is scootering along the busy streets of Manhattan trying to deliver pizzas and avoid being distracted by the multiple billboards featuring the now semi-famous model and his former high school crush, Mary Jane Watson (Kirsten Dunst). It's the frantic nature of the scene done in trademark Raimi style that shows us what a day in the life of Peter Parker is really like. He's got 15 minutes to make it across town to deliver a dozen pizzas or else he loses his job. On the way, he encounters every obstacle from New York City traffic to kids playing in the street, in which he makes a quick change into Spider-Man to save them from being mowed down by a speeding truck, to a stoner on the balcony of his posh Manhattan apartment trying to snag a piece of pizza from one of the pies Spidey left there momentarily to make his save. (The stoner dude is a welcome cameo by
Evil Dead 2
co-writer Scott Spiegel!)
Needless to say, he doesn't make his delivery in time, gets fired and can't get any work out of J. Jonah Jameson (J.K. Simmons) at the
Daily Bugle
. Instead he is forced to sell his Spider-Man photos to which Jonah always adds slanderous sensational headlines. Despite money woes, he does get a surprise birthday party from his Aunt May (Rosemary Harris) with his best friend Harry Osborn (James Franco) and Mary Jane in attendance. Aunt May's having financial problems of her own since Uncle Ben was killed and Harry won't let up on Peter for being friends with Spider-Man after blaming him for the death of his father, Norman Osborn. As for Mary Jane, the girl of his dreams finally loves him back but because of his obligation to being Spider-Man, Peter feels he can never truly be with her as she'd always be in danger and never fully understand the toll that the responsibility of being Spider-Man really has on him.
Peter's school grades are also declining as he's exhausted from being out all night patrolling the streets as Spider-Man, much to the dismay of his professor Curt Conners (Dylan Baker), who sees promise in Peter's brilliance, but is disappointed in his continued lack of focus and tardiness to class. His redemption will be a paper on Otto Octavius (Alfred Molina) who happens to be working on a huge energy fusion project for Oscorp which will change the way the world consumes and uses energy. As the head of the company, Harry introduces Peter to Otto and his lovely wife Rosie (Donna Murphy) and the two form an immediate kinship based on their mutual love of science. Seeing the loving relationship between Otto and his wife Rosie also gives Peter hope of one day being able to share a similar life with Mary Jane.
Unfortunately things don't go according to plan at the demonstration of the fusion reactor as the energy source created by Otto with the assistance of his four metal tentacles gets out of control and destroys the lab. His beloved Rosie also perishes in the accident, which fuses the metal appendages to Otto permanently. The "birth" of Doctor Octopus scene where a group of doctors (one of them played by director John Landis, no less!) is attempting to remove the metal arms is one of the film's stand out scenes and reminiscent of something straight out of Raimi's
Evil Dead
films, complete with the obligatory chainsaw shot! Now out on the loose and terrorizing the city in a similar way that the "Green Goblin" did a few short years earlier, Doctor Octopus is attempting to recreate his fusion reactor.
Meanwhile, the stress and strain of being Spider-Man finally starts to catch up to Peter and he begins to inexplicably lose his powers. He doesn't want his Spider-Man persona to come between his friendship with Harry or his relationship with Mary Jane anymore and he attempts to divorce himself from it all. As can be expected, things come to a head when Harry hires Doc Ock to kidnap Mary Jane as bait to draw out Spider-Man, on whom Harry wants revenge. This leads to a terrific fight/set piece that takes place on a train and is by far my favorite moment of the entire
Spider-Man
trilogy. Faced with the impossible odds of literally stopping a train going full speed, Spider-Man (maskless for this sequence) uses all his strength and is practically willing to sacrifice himself to save the hundreds of people on the train. It ends in a touching moment with the passengers all looking down at the unconscious Spider-Man and realizing "he's just… a kid. No older than my son." A young boy hands him his mask and promises, "we won't tell no one. It's good to have you back, Spider-Man." Seeing a bunch of New Yorkers getting behind the superhero who epitomizes their city always makes me a little weepy eyed. To me, this entire sequence is the essence of great, traditional Spider-Man storytelling from the vintage comics. It encapsulates why this character has been loved and adored since his creation back in 1962.
It's also great to see Tobey McGuire back in the role of Peter Parker/Spider-Man. For a brief moment prior to production, there were talks of Kirsten Dunst's then-boyfriend Jake Gyllenhaal taking over the roll, which thankfully didn't happen. (Although ironically enough McGuire and Gyllenhaal would go on to play siblings in the movie
Brothers
years later.) On top of the cameos I mentioned previously, there's also a great comedic scene where Hal Sparks bumps into Spider-Man in an elevator and can't help but comment on his costume. Also, whereas the first movie has some dated CGI special effects, the second one has some pretty terrific digitally created moments, especially when it comes to Spidey swinging through the streets of Manhattan or battling Doc Ock on the side of a moving train. There's much to love about the movie, especially if you're a comic book fan who grew up reading Spider-Man's many adventures in any of the four plus publications that were being churned out by Marvel, but at the end of the day, it's just a great movie, complete with action, comedy, drama – all the elements that make a satisfying blockbuster spectacle. And for those who can't get enough Spider-Man, there's also a DVD version that Sony put out titled "
Spider-Man 2.5
" which adds an additional 8 minutes of footage back into the film. Most of it is subtle additions, but it's definitely worth checking out.
Fun fact: You can spot a cameo by Thomas Jane in the background at Central Park as Mary Jane is running to Peter's apartment in her wedding dress. At the time, he was playing another Marvel character on film,
The Punisher
!
Posted by:
Rob Galluzzo
Jul 26, 2012 3:04pm