Movies We Like
Corman's World: Exploits of a Hollywood Rebel
Dir: Alex Stapleton, 2012. Starring: Roger Corman, Jack Nicholson, Ron Howard, Martin Scorsese, Peter Bogdanovich, Peter Fonda. Documentary.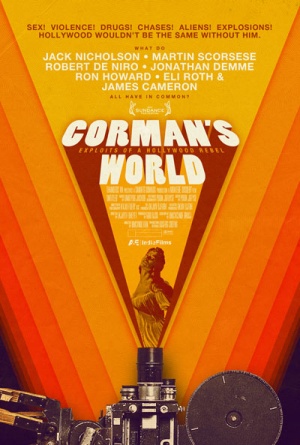 Even if you're a casual film fan, you must have a general knowledge of who Roger Corman is and how important he's been to the movie industry. You need look no further than the impressive roaster of names that speak about the prolific filmmaker in the documentary
Corman's World: Exploits Of A Hollywood Rebel
. Jack Nicholson. Peter Fonda. Martin Scorsese. Peter Bogdanovich. Joe Dante. Ron Howard. Robert DeNiro. Bruce Dern. Dick Miller. William Shatner. And so on and so forth. Corman is responsible for helping to launch the careers of every one of those names I mentioned above and then some! So it's somewhat of a surprise that a documentary of this type honoring the man and his large body of work has taken this long to come into existence.
Not that Corman hasn't gotten due credit and praise in the form of supplemental material before. Over the course of the last year, Shout! Factory obtained the license for dozens of his famous films and has been putting out great special edition DVD's and Blu-Ray's with extensive retrospective documentaries covering the making of each of those individual movies. There was also the fantastic documentary
Machete Maidens Unleashed
released last year from filmmaker Mark Hartley (who also did
Not Quite Hollywood: The Wild, Untold Story of Ozploitation
) which had a large segment talking about the low-budget "women in cages" movies that Corman produced in the Philippines, which also launched the acting career of Pam Grier. But as much as I thought I knew about Corman from the above mentioned sources, there was still plenty I learned from
Corman's World
.
The documentary opens on some vintage footage of Roger Corman being introduced as a guest on
Late Night with David Letterman
before cutting through a brief montage setting up exactly who the man is through the people that know him best. (It ain't a bad thing to have Jack Nicholson be the first person to say something about Roger for this flick!) Quick facts garnered from the first 2 minutes? He's produced well over 250 movies in his career. In 1957 he directed 10 feature-length films. He was the king of exploitation cinema. And among some of his trademark rules of filmmaking, "it doesn't matter if you have a permit, what matters is what you get in the lens" as quoted by Ron Howard! We then jump onto the set of
Dinoshark
in Puerto Vallarta, Mexico; the latest of several recent productions Corman has produced for the SyFy channel where we get a glimpse of the "Corman school of low budget filmmaking" firsthand. We then go back to the very beginning, and this is the stuff from the doc I found most fascinating, I guess, because like most film fans, I have a certain perception of Roger—I feel as if he's always been producing movies, so it's intriguing to see what it was like for him to start his career in the business.
He started out as a script reader for Fox and would write coverage and notes for potential film projects, although none of the ones he was sent to read were particularly good. It wasn't until he came across the script for
The Gunslinger
(starring Gregory Peck) and contributed a handful of ideas, all of which he was uncreditted for, that he decided to take his good ideas and apply them to his own films. So he went off to make
Monster From The Ocean Floor
, for which he acted as producer, assistant director, and even unloaded the equipment himself an hour before the crew arrived to set every day. This led to
The Fast and The Furious
, a road-racing movie that also proved to be a success. Each film just led to the next and, after pairing up with American International, he was able to consistently make low-budget movies and move on to the next film. Figuring he needed to learn more about actors, Roger signed up for an acting course where he met a young, struggling actor would go on to become one of his closest friends, Jack Nicholson. While I knew Jack had done a slew of films with Roger, I didn't realize just how deeply their relationship went. For the first 10 years of his career, the only person that hired Jack was Roger, starting with the film
The Cry Baby Killer
and then onto
The Wild Ride
and
Little Shop of Horrors
and so on and so forth.
What Corman was able to tap into with all those early films of his was that, if the audiences were primarily made up of young people, then those kids wanted to see young people in the movies they went to see and all of them had an element of rebellion to them, which was what young people were really responding to. Joe Dante points out that the term "teenager" didn't really come into being until the 1950s, and all of Corman's work then really was aimed specifically for the "teenager." Where Roger really caught his stride was at the beginning of the '60s when he started adapting the stories of Edgar Allan Poe and making a small fortune with horror films. These were the films that inspired a handful of new young filmmakers like Jonathan Demme, Ron Howard, and Martin Scorsese, who would eventually get their first break with their pictures from Roger.
Corman boasts several times through out the documentary that he never lost a dime on a picture he made, but he does express disappointment in his film
The Intruder
, adapted from the novel by Charles Beaumont, and starring William Shatner in his first feature length role. What was intended to be a serious social commentary film for Roger, and something that he hoped would establish him as a more serious filmmaker, ended up not being a financial success and that drew him back to the world of exploitation cinema, which was where he always seemed to thrive in anyway.
It's hard not to get wrapped up in and excited by this documentary and the way it presents all of the old Corman films; whether it's hearing Scorsese talk about the making of
Boxcar Bertha
from his private home movie theater, or Ron Howard discussing
Grand Theft Auto
while walking through his own neighborhood, or even Peter Fonda talking from his ranch about how
The Wild Angels
and
Psych Out
lead to
Easy Rider
, from start to finish the documentary is an absolute delight. The only down side is that it's not longer. While the film does cover a good chunk of Roger's early career, which up until now hasn't been this thoroughly explored, and it later touches upon the recent SyFy flicks as well as his years of snubs from the Academy at the Oscars (don't worry, he does get redeemed), it's a shame that the doc skips over the post-
Star Wars
/post-
Jaws
era of Roger's career in the late '70s and '80s where he was making cheap, yet memorable knock-offs of those successful blockbusters and launching the careers of filmmakers like James Cameron on little films like
Piranha 2
! I guess the beauty of all of the recent Shout! Factory releases is that they compliment this documentary very well and vice versa. Or maybe director Alex Stapleton can eventually do a sequel to
Corman's World
focusing on the latter era Corman stuff? I know I'd be game for that!
Posted by:
Rob Galluzzo
May 4, 2012 5:22pm