Movies We Like
Rollerball
Dir: Norman Jewison, 1975. Starring: James Caan, John Houseman, Maud Adams, John Beck, Moses Gunn. Science-Fiction/Action.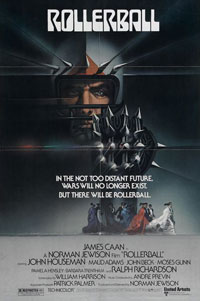 In a bleak, warless future society that stylistically looks a lot like the 1970s, corporations have taken over for governments. But without war the people are still bloodthirsty so they get their kicks from a sport called rollerball, a male version of roller derby, but way more violent and even deadly. Besides guys zipping around a track on roller skates, punching each other out, there are motorcycles too. Worrying that a player can get too popular, corporate head honcho Bartholomew (John Houseman) informs Houston's star player, the he-man Jonathan E. (played by he-man actor James Caan, a couple years after
The Godfather
made him a big star), that he needs to retire, but Jonathan E. plays by his own rules and will do what it takes to not be a lackey for the man.
Rollerball
director Norman Jewison had a long and respected career moving easily between comedy (
The Russians Are Coming, The Russians Are Coming
), social drama (
In the Heat of the Night
) and even musicals (
Jesus Christ Superstar
), but his work usually had a liberal take to it (
A Soldier's Story
,
...And Justice for All
) and though he was no stranger to straight entertainment (
The Thomas Crown Affair
) he must have looked a little miscast as a sci-fi action director. Luckily the action is well shot and the rollerball game sequences are still amazingly exciting, but there are only a couple of those games so, at over two hours long, there's a lot of exposition in between. As a kid, all the talk was boring and confusing, but now I can appreciate what Jewison was driving at. There is definitely a rebellious anti-corporate spirit at work here and a prophetic vision of corporate dominance over sports and everyday life to come.
SImilarly themed to the more recent future sport sensation
The Hunger Games
, the "executives" class lives a decadent lifestyle and the star players get to experience it. One player standing up to the system alone has the ability to bring the whole system down. Shot in London and Munich, like
Sleeper
,
Rollerball
uses as much actual "futuristic" architecture to convey a sleek future. Though the dregs of society are only seen as loudmouth rooting fans, the idea that the have-nots are suppressed is felt. The score is mostly organ music and some classical pieces (ala
A Clockwork Orange
), but they give the film both a menacing quality and a touch of class and it's all conducted by super star conductor Andre Previn.
If the rollerball game is too obviously an allusion to the Roman gladiators it's made up for with pure adrenaline. Jonathan E. and his teammates engage in some of the fiercest, violent sport ever recorded on film (and not in Roger Corman's campy
Deathsport
or
Death Race
way). Jewison, cinematographer Douglas Slocombe (
Raiders of the Lost Ark
), and editor Antony Gibbs (
Ronin
) employ every trick available to filmmakers in a much more realistic pre-CGI era. Is it any wonder that a flawed sci-fi flick from the '70s is still admired for some of the greatest action sequences ever recorded, while the much more expensive remake from 2002, with all its computer wizardry, is completely and deservedly forgotten?
Rollerball also stands as a testament to the fact that once upon a time James Caan could really carry a movie. After
The Godfather
,
The Gambler
and his heartbreaking performance in the beloved TV movie
Brian's Song
,
Rollerball
is at the peak of his superstardom and he's really good, even when having to speak inane exposition orientated dialogue. Though he would have a couple more acclaimed performances in
Thief
and
Hide in Plain Sight
(which was also his one time directing), Caan would fumble away most of his good will with too many trips to the Playboy Mansion and would become less respected than his peers at the time, De Niro and Pacino, but he would continue to work steady as a solid journeyman actor.
While
Rollerball
's vision of a corporate takeover of the world may sound far out (though many currently in power dream of such a day), it's presented completely credibly. Nations have gone bankrupt and have been bailed out by big business - not too hard to envision these days. Nationalism has been replaced by small civic (or city) pride and man against man violence has been replaced by the rollerball games. While the past and history has been covered up, no mention of a boiling revolution is mentioned, so in the ultimate sports fantasy, the smartest dreamer out there is big dumb jock, Jonathan E. Interestingly, he has no aspirations for martyrdom, his biggest personal issue is missing his long gone ex-wife (sexy Swede Maud Adams, can you balme him?), another example of '70s cinema going with the "personal" as opposed to the easy "crowd pleaser." While Jonathan E. may win over the people, there are no big speeches; he just does it the old fashioned way, by kicking-ass on the rollerball court.
Posted by:
Sean Sweeney
Aug 6, 2012 4:18pm