Movies We Like
Some Like It Hot
Dir: Billy Wilder, 1959. Starring: Marilyn Monroe, Tony Curtis, Jack Lemmon, George Raft, Joe E. Brown. Classics.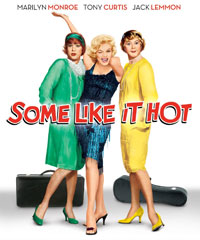 Easily the best drag-comedy ever made, nudging just past
Tootsie
,
Some Like It Hot
confirms that Billy Wilder was one of the two greatest directors in America of his generation, alongside fellow non-American born filmmaker Alfred Hitchcock. Besides its ranking as a terrifically entertaining comedy, it also has cultural importance as the best flick Marilyn Monroe had starred in (she only had one scene in the masterpiece
All About Eve
). Following her earlier collaboration with Wilder,
The Seven Year Itch
, this film was sold to the public as a Monroe vehicle. She handles the comedy splendidly and oozes sex deliciously (in some outfits that even by today's standards would be considered kinda hootchie), but it's the rest of the cast that Wilder surrounds her with who make it more than just your average sex farce. Pretty boy Tony Curtis and young funnyman Jack Lemmon (who won an Oscar a few years earlier for
Mister Roberts)
are exceptional spending a majority of their on-screen time dressed as women. There's also gangster tough-guy, George Raft (a sorta comeback for him), bizarre super-ham Joe E. Brown (who you could say steals the film), and the great journeyman character actor Pat O'Brien rounding out the cast. Wilder co-wrote the script with I.A.L. Diamond for the second time after
Love In The Afternoon
and together they create real magic; taking a plot that would be considered a third tier sitcom idea and ended up setting the blueprint for what is now considered a perfect and smart comedy. Wilder and Diamond would go on to collaborate on ten more films together, including
The Apartment
, but
Some Like It Hot
is the script that still influences films today (not that Cameron Crowe and others haven't ripped off
The Apartment
a number of times).
Opening like a send up of Warner's black & white gangster films, it's 1929 Chicago and the town is jumping. At a speakeasy, two musicians, Joe (Curtis) and Jerry (Lemmon), are in a dire financial predicament, especially when their latest gig is broken up by a police raid. Under their nose Detective Mulligan (O'Brien) is busting big time underworld figure Spats Colombo (Raft, back in his full mean gangster persona), which leads to the now famous Saint Valentines's Day Massacre (where a bunch of gangsters got machine gunned down in cold blood). Unfortunately Joe and Jerry witness it and now have to go on the run. Solving both their financial problems and a way to hide out, they join an all girls band heading to Florida (completely wigged, made-up and dolled out). Now under their new female aliases Josephine and Daphne, they take a long train ride South with their new band, both becoming infatuated with their ditzy new lead singer, Sugar (Monroe). In awe of her sexy, curvy walk and insecure about their new guise, Lemmon declares the obvious, "I tell you, it's a whole different sex."
By the time they reach Florida (actually San Diego's Hotel Del Coronado, a location that also played a role in the great cult flick
The Stunt Man
), Josephine and Daphne have fully bonded with Sugar and the other girls in the band. Lemmon tries to get her alone but ends up hosting all the partying girls in his tight sleeping quarters, making for a classic scene reminiscent of the famous scene with the Marx Brothers on the boat in
A Night at the Opera
. In order to seduce Sugar, Joe poses as an impotent yachting millionaire, with an obvious Cary Grant accent, whom Sugar falls for. Meanwhile Jerry is wooed by a real yachting millionaire (Brown), and in a hilarious twist, Jerry seems to inexplicably fall for and even ends up with him in the end. When Spats and his crew end up at the hotel for unrelated criminal reasons, he seems to be the only guy street smart enough to notice that the guys are not girls but guys. Blowing their cover and having to flee, Joe - the heartbreaking playboy - comes to realize that he is actually in love with Sugar and can't bear to see her hurt. And it appears that Jerry realizes that he is thrilled to marry a man.
Sugar is mostly the role that has come to define Monroe on and off the screen, a tortured victim of her own beauty. Though she's no virgin, there's almost an innocence about her. While every man lusts after her, she just wants love. Curtis had a decent run during this period with a number of then significant films;
Trapeze
,
The Defiant Ones
,
Spartacus.
But only
Sweet Smell of Success
and
Some Like It Hot
have really stood the test of time (while later in '68 he gave his best but most under-appreciated performance in the excellent thriller
The Boston Strangler
). Lemmon ended up with the monster career, moving gracefully between dramas and comedies for decades as a beloved "everyman."
Some Like It Hot
was just one of the massive notches on his big time actor belt. Lemmon's zaniness provides most of the best laughs of the the three, but ironically enough the straight man, Curtis is usually the more believable as a woman. Lemmon expectantly brings his voice up a register, but Curtis almost sounds dubbed, because his female voice is that believable.
Like so much of Wilder's work,
Some Like It Hot
may not have been fully appreciated in its day, but now many movie lists and polls rank it as the greatest comedy of all time. Whether one's personal taste would merit the rating so high is debatable, but the clean efficiency of the script cannot be argued. Condemned by the Catholic Legion of Decency upon release, for audiences in '59 it was a little shocking (and in some ways the possible gay undercurrent still can prove rather amazing). It could be called the
There's Something About Mary
or
The Hangover
of its day. It was laugh-out-loud funny, a little risque, a little bawdy and fifty-something years later it's still all those adjectives. It will be interesting to see how those more recent comedies will look by their fiftieth birthday. I bet not nearly as good. Wilder is one of the rare director/writers whose best work only gets better with age.
Posted by:
Sean Sweeney
Jul 6, 2012 5:05pm