Movies We Like
Tootsie
Dir: Sidney Pollack, 1982. Starring: Dustin Hoffman, Jessica Lange, Teri Garr, Bill Murray. Comedy.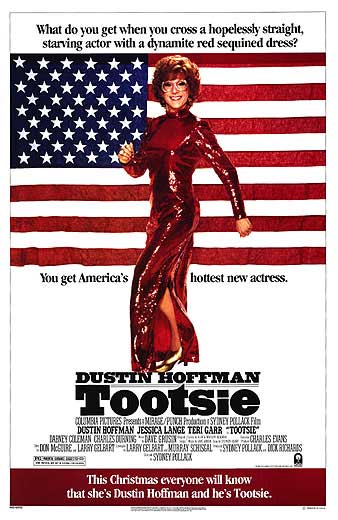 Even though it has a noticeably horrible Dave Grusin music score behind it (and even worse are the songs, giving it an icky, saccharin, early '80s vibe)
Tootsie
still manages to break conventions and has proved to be one of the best comedies of all time as well as the best film about the desperation of actors since
Rosemary's Baby
. What at first can look like a gimmick, "Dustin Hoffman dresses up like a woman," actually proves to be much more sophisticated; this isn't a
Some Like It Hot
updating. With a screenplay by Murray Schisgal and Larry Gelbart (creator of
M*A*S*H
, the TV show and part of that group of young writers including Neil Simon, Carl Reiner, Woody Allen, and Mel Brooks who honed their skills on
Your Show of Shows
in the 1950s)
Tootsie
, like a Preston Sturges or Howard Hawks classic, is both a laugh-out-loud comedy and an insightful social examination. It may be clichéd but Hoffman's character comes to understand being a man more from his life as an undercover woman. Fresh from the Women's Lib era,
Tootsie
has a lot to say about gender roles and makes its statement cleanly.
Struggling actor slash waiter, Michael Dorsey (Hoffman), teaches acting and coaches his friends' auditions, but his exasperated agent (played wonderfully by director Sidney Pollack) lets him know, no one will hire him because he's too much trouble (much like Hoffman's own difficult reputation). After helping his needy actress friend Sandy (Teri Garr) prepare for a soap opera role, he ends up going up for it in drag and booking it, under his new stage name, Dorothy Michaels. With the help of his droll playwright roommate (an uncredited Bill Murray), keeping up his ruse as a woman becomes a fulltime job. He accidentally sleeps with Sandy, but falls in love with his soap costar Julie (Jessica Lange); she's involved with the show's chauvinist director (Dabney Coleman). On a weekend getaway Julie's widower father (Charles Durning) falls for Dorothy as does her old cad costar John Van Horn (George Gaynes). Meanwhile on the set of the show Dorothy proves to be an actress who plays by her own rules, rewriting lines and following her instincts which make her an instant celebrity (I suppose once upon a time, soap operas had the ability to make their casts into names). Michael wants to put down his mask and reveal to everyone who he really is but besides ruining his now thriving career, it will complicate the relationships that he has made as Dorothy. He also begins to grasp how hard it is to be a woman in the 1980s.
Unlike
Mrs. Doubtfire
or
Big Momma's House
or most drag comedies, the comedy of
Tootsie
doesn't come from Hoffman prancing around as a woman. Yes, it's a classic mistaken identity farce but not at the expense of the dignity of women. Though Michael's dressing-room mate (Geena Davis) is often in her underwear, Michael isn't working the deception as a chance to ogle woman, it's strictly out of his love of acting and need for work. Dorothy herself is a fascinating character; Hoffman brilliantly makes her believable, and though he has no inherent feminine features, it's not hard to understand people falling for his act. Coming off
Kramer vs. Kramer
, this (along with his earlier one-two punch of
The Graduate
and
Midnight Cowboy
) would prove to be the peak of Hoffman's career. Following
Tootsie
with the disastrous
Ishtar
, Hoffman would never again connect with audiences as a major leading man (though he would find acclaim as a character actor in films like
Rain Man
and
Wag the Dog
).
For Jessica Lange, then known as the fragile beauty from the Dino De Laurentiis
King Kong
remake,
Tootsie
and her performance as Francis Farmer in
Francis
that same year would make her a major A-list actress (she got Oscar nominations for both films and won for
Tootsie
). It would also mark career peaks for most of the cast including Garr, Coleman and Durning. For Murray,
Tootsie
would show he was more than just a goofy, slapstick
Saturday Night Live
comedian and the film worked as a preview to the more critically acclaimed roles to come for him. Director Sidney Pollack had always worked with A-material and major stars (most notably Robert Redford in films like
Three Days of the Condor
and
The Way We Were
); he would follow
Tootsie
with the overblown but admired
Out of Africa
and then direct a bunch of duds. His acting performance in
Tootsie
would lead to more acting gigs, including work in Stanley Kubrick's
Eyes Wide Shut
and his fantastic turn in Woody Allen's
Husbands and Wives
.
As a backstage comedy,
Tootsie
shined a light on the world of soaps and New York actors hitting the pavement in search of work. Hoffman never wore his fame well; he always seemed self conscious of his status and guilty about the struggling actors he left behind.
Tootsie
is almost a love letter to them; he's telling them I understand your plight. And more importantly to working women the film was really feeling their pain; Michael is a guy who would like to be a seducer, but after seeing the effort that single mom Julie goes through and the struggle to make Dorothy more of a beauty, more feminine, his eyes have been opened and there will be no going back to his past life.
_____________
Tootsie was nominated for 10 Oscars including Best Actor (Dustin Hoffman), Best Supporting Actress (Teri Garr), Best Cinematography, Best Director, Best Editing, Best Music, Original Song, Best Picture, Best Sound, Best Screenplay, and won for Best Supporting Actress (Jessica Lange).
Posted by:
Sean Sweeney
Mar 14, 2012 6:43pm