Movies We Like
Murderous Maids
Dir: Jean-Pierre Denis, 2000. Starring: Sylvie Testud, Julie-Marie Paramentier, Isabelle Renauld. Foreign.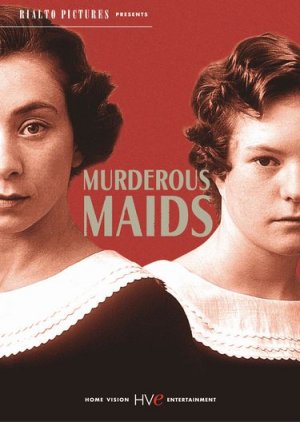 As stated in the previous review of
Sister My Sister
,
Murderous Maids
is a biopic on the Papin sisters. I listed the flaws of the former, and surprisingly found few to no flaws in this production. Alluding to the various interpretations of the sisters' lives, this film is more complete due to the fact that it goes into their childhood and background as maids, beginning with the convent where they were raised and educated. There's a hefty age difference between the two, and Christine is shattered when her mother informs her that her father, who's away at war, raped their older sister Emilia, who later became a nun. When the young Christine, who is also very religious, expresses her desire to also be a nun, her mother revolts out of spite, telling the child she would be a servant like her.
While Lea (Julie-Marie Paramentier) was still in school the adult Christine (Sylvie Testud) slaved away in various households as her mother collected most of the earnings and found her new positions. When Lea became a teenager her mother put her to work as well, and Christine's protests to this were due to the fact that she wanted a better life for her and because Lea informed her that the men in the current house she worked at took certain liberties with her and their mother. When their mother informs them that she plans to find work for them in the same household, the two are very pleased. They learn how the place works and do a splendid job until the volatile Christine ruins it and they're back at square one. She's forced to split from her sister, who she has a sexual attachment to, and finds work alone in a wonderful estate with a fairly nice woman and her adult daughter.
The only issue is that Christine isn't alone. The Madame already has a servant, but Christine is cunning and notices her blunders and exploits them. When she does a shoddy job cleaning, Madame relies on Christine to make it right without protest. When her work isn't up to par, Christine dazzles her new boss with her skill. She respects her household, logs what she does and what she takes to cook with from the pantry, earning the not easily impressed woman's respect. While doing all of this she is modest, claiming that her younger sister is even better than she at many tasks. Her plan works and the Madame speaks with her husband, a traveling businessman, about hiring Lea and getting rid of the other servant.
Lea's transition into the house is smooth and the love affair between the two sisters becomes overwhelming. It goes from being unabashed and perhaps fearless to just plain uncomfortable to watch. Meanwhile their relationship with their mother deteriorates due to Christine's hate for her. After a while their mother suspects that the girls are trying to cut her out of the picture by winning over their boss and perhaps turning the woman against her. She begins a plot to get back at them by instructing the Madame to keep a close eye on them and a high level of scrutiny in place. Eventually the idea comes about that the two will be better separated, with Christine remaining with the Madame and Lea placed with her daughter when she marries. The mother's claims at their untrustworthiness eventually spark an interest in the Madame and she plans to catch the girls off-guard. She tells them that she'll be way for three days and even brings them decadent food to feast on while she's away. But she arrives back before three days and catches them by surprise. Though she expected something to be amiss, she wasn't prepared to discover that they were lovers.
In Christine's mind there is only one solution. She kills the two women in a fit of rage as Lea listens in terror from their bedroom. She eventually comes down and overlooks the scene, coming to the conclusion that she must follow her sister's lead and commit a crime, lest only one of them be found guilty and therefore they'd be separated. The two take turns mutilating the bodies and are discovered days later in bed together by the husband, as it occurred in real life. Likewise, the film goes past the murder into their days in prison leading up to trial.
I know I've given away most of the movie, but this is a simple description of two very complex individuals who were portrayed by Testud and Paramentier, two extremely brave and talented actresses. Unlike the British production, which had an ensemble cast, this film focuses almost exclusively on the sisters, though it introduces many others in their lives. The Madame and her daughter in this version are also vastly different, almost kind in a sense, which removes the emphasis on the crimes being class-related. The mother takes the role of the prime villain, in fact being comparable to a pimp. Since the entire film was quite tense and emotionally violent, I expected the murder scene to be even more unnerving, which it was. There was a moment when the camera does an overhead dolly of the corpses where I literally couldn't breathe. I prefer this version of the Papin sisters' lives simply because it's not easy to swallow. As a spectator you are drawn into their world and given an abundance of information and time with the two women—information and time that you'll almost wish you never happened upon.
Posted by:
Edythe Smith
Dec 26, 2011 8:42pm