Movies We Like
Sister My Sister
Dir: Nancy Meckler, 1994. Starring: Julie Walters, Joely Richardson, Jodhi May. Gay Cinema/Drama.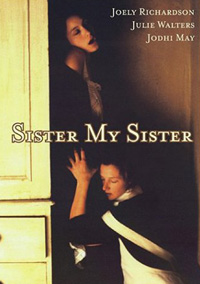 Lately I've been stuck in a cycle of comparability within mediums, mainly in terms of literature and film. History itself is interesting to me for that very reason. Depending on who won or lost a war, for example, we can be given two entirely different perspectives on that war's history. Biographies and biopics do the same, which brings me to the different perspectives in film and theory on the Papin sisters—two French chambermaids in the '30s who carried out an atrocious crime that shocked a nation. Their lives, and the crime in question, has been of interest to both psychoanalysts and social theorists, yet given the facts and testimonies during their trial, each person comes away with a different motive.
On one hand you've got doctors and historians approaching the sisters within the context of class, in fact calling their actions a class-crime—no more than two underpaid, often humiliated, servants in a harsh class system who took out their rage on their employer and her daughter by murdering them. This theory touches on the assumption that the two were lovers from a broken home, but only as a side note. They consider the slaying premeditated. The opposing outlook deals almost entirely with their sexual identity, sexual relationship with each other, and their disturbing family life. Here theorists make the claim that the two were mentally disturbed, that there could have been unreported instances of sexual abuse, and that the crime was one of passion, or at the very least of a sexual construct. The two films that I've discovered that chronicle their lives best are
Murderous Maids
, a French production, and a British production,
Sister My Sister
.
Sister My Sister
has its flaws, which I'll quickly make known. For starters, it opens with a setting in France, yet the entire all-female cast is British. Not that this is a bad thing, as British actors are among the finest in the world. However, in my opinion, if you're going to do an adaptation to screen of someone's life, have it be fitting, otherwise come up with circumstances and a setting that is only inspired by their lives, as many other film and theater productions have. Second is the story itself, which is not necessarily complete. It focuses on the two murdered victims, their employer and her marriageable daughter, almost as much as the sisters. There's the occasional glimpse of their mother and flashbacks of the girls growing up away from her in a convent, but no more. Key people, like their other sister, their employer's husband, and their father, are hardly referenced, if at all. Last is the overall feel to the film which is, for lack of a better word, sexy. I wouldn't call it a flaw, but it is not always fitting. Although there are really no nude or explicit sex scenes, the entire film comes off as a romance—passionate and endearing—between two desperate sisters, both of whom are played by beautiful women with long hair, the complete opposite of the Papin sisters. The eroticism is quaint and dreamy—well-lit with bright light and unsuspecting innocence. It's as if the two were distant cousins who experimented one summer. It's like a Cinderella story with two pretty peasants who end up murdering someone. The disturbing aspect is toned down quite a bit.
The film opens with a sort of reunion between the two sisters. Lea (Jodhi May), the youngest of the two, has finally landed a position in the same household as her sister, Christine (Joely Richardson). The two can hardly contain their glee as their boss Madame Danzard, played by the marvelous Julie Walters (
Harry Potter
), gives Lea's recommendation letters an approving glance. Christine seems to have admiration for her boss's sternness and wit. She runs a tight ship, and the older and more experienced Christine respects that and expects little Lea to keep up with her ruthless pace. At first things are going smoothly. The girls work hard and ask for nothing (they hardly speak), sharing a bed in small living quarters and working as an excellent team. Their only personal battle comes from Lea's attachment to their mother, whom Christine loathes. The impressionable Lea gives all of her earnings to their mother when she visits on Sundays, and the scarred Christine tries everything to rid her of her filial perfection.
Over time it works and for half the day on Sunday (their only time off), the two can spend their time together. They start to put aside money for their future as well. Christine is a master at tailoring, and Lea's intrigue and respect for her work settles on a particular nightgown that she keeps in a chest. When Christine asks her to try it on she is struck by Lea's beauty and what sexual tension existed before starts to blossom into full-fledged desire. Their love affair is filled with bliss but it makes them sloppy. Their work becomes commonplace instead of exceptional, and when Madame comes around with her white glove to inspect, she finds errors for the first time. The two begin taking their earnings and splurging on nice gloves and textiles, which Christine uses to produce clothes that would be the envy of the town, and certainly not the kind found on servants. On the outside, someone would never know their status, and this upsets the Madame. One night when she and her daughter Isabelle return home and find the lights out, she starts putting together the pieces. Seeing Christine in nightclothes, lightly sweating and covering for her sister who won't come down when called, she suspects that she's been housing incest. The threat of having their lives shunned and work record ruined (meaning they'd never work in the same house again) causes Christine to have a breakdown, and when Lea finally joins her at the stairs the two snap and brutally attack the two women—gauging out eyes and all.
Though I think this film is slightly inferior to the French production I will state this: violence usually works best when it is unexpected. It's the only way to keep our sensitivity to it in tact. Portraying the Papin sisters in a graceful, even aloof manner, suggests that they were victims of mistreatment and cruelty. Walters' role as their stern, but absurdly eccentric boss, presents us with comic relief, as does her plump daughter who was many quirks of her own. It made the ending, which is nowhere near as graphic as the one in
Murderous Maids
, work. It upheld a beat, not so different than a clock's tick or a pulse, that ended on a fitting note. One that the excellent cast was able uphold throughout the film's entirety.
Posted by:
Edythe Smith
Dec 23, 2011 6:40pm