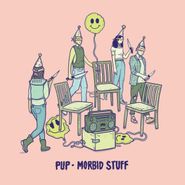 $26.98
Currently Unavailable
Artist:
Pup
Genre:
Rock
Release Date:
04/05/2019
Label:
BMG Rights Management
Catalog Number:
47854
Recording:
Studio
Length:
Format:
Vinyl LP
Note:
Indie Exclusive Pink / Oxblood Colored Vinyl
Limit One Per Customer
Morbid Stuff [Pink / Oxblood Colored Vinyl] (LP)
Pup
Currently Unavailable
$26.98
SHIPS FREE
in U.S.
Amoeba Review
08/31/2020
Toronto four-piece PUP packs a whole lotta punk attitude into the fast-moving, fun Morbid Stuff. Inspired by frontman Stefan Babcock's battle with depression, the songs find the band giving a middle finger to the disease in characteristic smart, sardonic style. It's bleak, it's upbeat, it's full speed ahead. Punk rock defiance finds its calling in the battle against the disease and in turn, fans of classic-style punk will find one of the year's best records in Morbid Stuff.
Overall Rating
0 Submissions