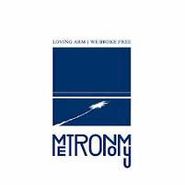 $14.98
Currently Unavailable
Artist:
Metronomy
Genre:
Electronic-Dance
Release Date:
10/2012
Label:
Because Music
Catalog Number:
BEC5161293
Recording:
Studio
Length:
Format:
Vinyl 12"
Loving Arm/We Broke Free (12")
Metronomy
Currently Unavailable
$14.98
SHIPS FREE
in U.S.
Amoeba Review
Matthew McDermott 01/25/2013
Prins Thomas comes with a brilliant remix of the French pop group on the a-side. It works because the simple falsetto funk of the source material makes for a perfect pairing with Thomas' space-disco instinct. Outsider house producer Gerry Read takes the b-side in a totally different direction, dropping catchy samples into odd sequence and somehow making it all work.
Overall Rating
0 Submissions