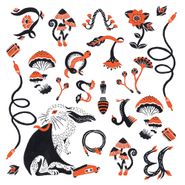 $29.98
Currently Unavailable
Artist:
Boris
Genre:
Rock
Release Date:
10/04/2019
Label:
Third Man Records
Catalog Number:
4702801
Recording:
Studio
Length:
Format:
Vinyl LP
Note:
Indie Exclusive Translucent Orange Vinyl
Limit One Per Customer


NOW OPEN!
Visit our new Berkeley
Cannabis Dispensary
located next door!
Love & Evol [Translucent Orange Vinyl] (LP)
Boris
Currently Unavailable
$29.98
SHIPS FREE
in U.S.
Amoeba Review
07/28/2020
The next chapter in the Boris story has arrived: their new double album exists as two independent works, encapsulating conflicting connotations that interweave and become intricately entangled with one another, gradually eroding before becoming utterly singular. Continuing to tinker with their sound since the 2017 release of DEAR, Boris has moved onward with a more organic, non-grid literary style.
Overall Rating
0 Submissions