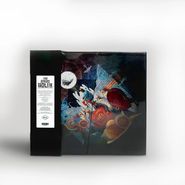 View all Photos

$499.98
Currently Unavailable
Artist:
The Mars Volta
Genre:
Rock
Release Date:
04/23/2021
Label:
Clouds Hill
Catalog Number:
2477
Recording:
Studio
Length:
Format:
Vinyl LP
Note:
18 LP 180 Gram box set. Includes the studio albums and EPs by The Mars Volta in an LP Box Set specially mastered for vinyl, and the first release of the the myth-shrouded LANDSCAPE TANTRUMS. The box-set is limited to 5000 copies, and includes an exclusive illustrated book and 2 pins. The vinyl only set contains the debut EP TREMULANT (2002) and the six studio albums from DE-LOUSED IN THE COMATORIUM (2003) and FRANCES THE MUTE (2005) through to their last work NOCTOURNIQUET (2012). Everything has been newly remastered specifically for vinyl by Chris von Rautenkranz. Included in this fabulously designed set is also a hardcover book specially put together by Omar Rodríguez- López and the Clouds Hill team with unpublished 'behind the scenes' photographs from their early days.
La Realidad de los Sueños (LP)
The Mars Volta

Currently Unavailable
$499.98
SHIPS FREE
in U.S.
Overall Rating
0 Submissions