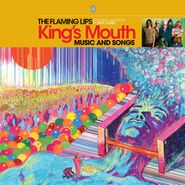 $26.98
Currently Unavailable
Artist:
The Flaming Lips
Genre:
Rock
Release Date:
07/19/2019
Label:
Warner Records
Catalog Number:
590794
Recording:
Studio
Length:
Format:
Vinyl LP


NOW OPEN!
Visit our new Berkeley
Cannabis Dispensary
located next door!
King's Mouth (LP)
The Flaming Lips
Currently Unavailable
$26.98
SHIPS FREE
in U.S.
Amoeba Review
08/04/2020
If you missed your chance to scoop up the Flaming Lips' 15th studio album, King's Mouth, on Record Store Day 2019, don't despair! The official commercial release of this goofy, glorious picaresque is here, featuring narration from The Clash's Mick Jones. Originally conceived of as the soundtrack to frontman Wayne Coyne's art exhibit of the same name, King's Mouth: Music and Songs features strange, clever lyrics paired with playful, richly-textured melodies. In short, it's the new Flaming Lips album you've been dreaming of — lush, moving, and lovably off-kilter.
Overall Rating
0 Submissions