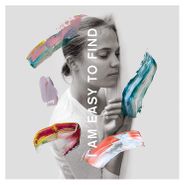 View all Photos
$54.98
Currently Unavailable
Artist:
The National
Genre:
Rock
Release Date:
05/17/2019
Label:
4AD
Catalog Number:
0154-DLX
Recording:
Studio
Length:
Format:
Vinyl LP
Note:
3LP Deluxe Edition Yellow/Red/Gray Vinyl
Limit One Per Customer
I Am Easy To Find [Deluxe Colored Vinyl Edition] (LP)
The National
Currently Unavailable
$54.98
SHIPS FREE
in U.S.
Amoeba Review
The National have done something unexpected on the masterful, moving I Am Easy to Find. The album was written and recorded in conjunction with the Mike Mills short film of the same name; both the film and the album are magnificent. The National have collaborated with a trio of female vocalists — Ann Dorsey, Lisa Hannigan, and Kate Stables — for the release and the resulting slow burn buildup over the course of the album is transcendent, punctuated with swells of emotion and powerful moments of quiet. At times intimate and at others expansive, this latest release is a celebration of life in all its most painful and most glorious moments. It's a stunning achievement.
Overall Rating
0 Submissions