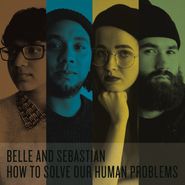 $49.98
Buy
Artist:
Belle & Sebastian
Genre:
Rock
Release Date:
02/16/2018
Label:
Matador
Catalog Number:
1123
Recording:
Studio
Length:
Format:
Vinyl LP
Note:
Limited Edition
12"x3 Box Set
Includes Poster
Limit 1 Per Customer


NOW OPEN!
Visit our new Berkeley
Cannabis Dispensary
located next door!
How To Solve Our Human Problems [Box Set] (LP)
Belle & Sebastian
Buy
$49.98
SHIPS FREE
in U.S.
Amoeba Review
09/07/2020
This boxset gathers all 3 of Belle & Sebastian's How To Solve Our Human Problems EPs, beginning with Part 1 released at the tail end of last year. Inspired by their 1997 run of three successive EPs, the band sought to once again capture that creative energy over a trio of releases that feature songs that range from quintessential B&S ("The Same Star," "I'll Be Your Pilot") to new sounds entirely (the electronica-tinged "We Were Beautiful").
Overall Rating
0 Submissions